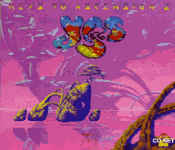 When Yes released their live Keys to Ascension album last year, fans loved it. The definitive lineup of the band reunited in a three-night stand in San Luis Obispo, CA, and they were in fine form. The only bad thing was that it didn't include all of the material that was played. Instead, they added 2 new studio tracks. On Keys II, they gave us the rest of the live tunes, plus five more studio tracks. The bad thing is that when you listen to Keys II by itself, some of the live performances come across as uninspired and painfully clear why they were left off the original.
Disc one starts off with "I've Seen All Good People." I know, I know. It's a hit. But do we really need to hear this song again? The band certainly doesn't seem to be into it, and the crowd doesn't seem very interested either. In fact, keyboardist Rick Wakeman sounds bored throughout the majority of the live tracks here. His new piano intro to "Time and a Word" is very nicely done though, and is possibly his most inspired performance on the disc.
"Close to the Edge" was the main reason I wanted to hear this CD. The band showed they still have it in them, although it sounds like they needed a few more rehearsals. There are missed cues, certain sections are played slower, etc. I'll give them an 'A' for effort (except for Wakeman, who sounds like he'd rather be somewhere else). The real highlights on Keys II are the next two tracks, "Turn of the Century" and "And You and I." Both songs sound great, and feature excellent fretwork from guitarist Steve Howe.
Aside from the poignant instrumental, "Sign Language," the studio tracks on the second disc are really nothing spectacular. They're not bad, but nothing that you need more than once. Keys to Ascension II had the potential for greatness, but for the most part, ended up being a disappointment.