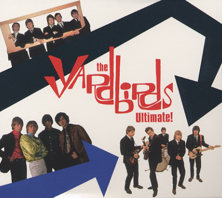 The first thought that comes to mind when you see this compilation is 'it's about time.' Yardbirds fans have had a dilemma on their hands for decades now. If you were looking for a collection of the band's material that featured all three legendary guitarists--Eric Clapton (October '63-March '65), Jeff Beck (March '65-November '66), and Jimmy Page (June '66-July '68)--you had to buy three different compilations. Since the material was owned by a variety of different labels, a single collection was impossible--until now. Rhino recently released Ultimate!--the first collection of the archetypical band with material from all aspects of the group's history.
Inspired by Chicago blues and R&B, The Yardbirds debuted in June 1963 with Keith Relf (vocals, harp), Anthony "Top" Topham (lead guitar) and Chris Dreja (rhythm guitar), Paul Samwell-Smith (bass, keyboards), and Jim McCarty (drums). They scored a number of hit singles, released a handful of studio albums, and toured extensively. Over the course of the next five years, the group's sound evolved at a breakneck pace as one guitarist replaced the next. Clapton left to form Cream before embarking on a lucrative solo career. Beck left to form The Jeff Beck Group. The 'new' Yardbirds, led by Page, evolved into Led Zeppelin, and Relf and McCarty soon co-founded Renaissance.
Assembled by era, Ultimate! includes all the hits you remember ("For Your Love," "Heart Full of Soul," "Shapes of Things," "I Ain't Got You," "The Train Kept A-Rollin'"), a few songs that you may have forgotten about ("You're a Better Man Than I," "Jeff's Boogie," "Still I'm Sad"), plus 3 rare Relf solo tracks--all presented here in the best sound quality ever. The double CD contains whopping 53 tracks, plus a first rate 54-page booklet loaded with photos and informative liner notes.
The Yardbirds' status as one of the most influential bands of the last 40 years is undeniable. Ultimate! is a comprehensive, one-stop collection of recordings by one of the world's greatest bands.
TRACK LIST:
Disc One - Boom Boom * Honey In Your Hips * A Certain Girl * I Wish You Would * Too Much Monkey Business (live) * I Got Love If You Want It (live) * Smokestack Lightning (live) * Here 'Tis (live) * Good Morning Little Schoolgirl * Got To Hurry * I Ain't Got You * For Your Love * I'm Not Talking * Steeled Blues * Heart Full Of Soul * I Ain't Done Wrong * You're A Better Man Than I * Shapes Of Things * The Train Kept A-Rollin' * New York City Blues * Evil Hearted You * I'm A Man * Still I'm Sad * Questa Volta * Pafff...Bum
Disc Two - Lost Woman * Over Under Sideways Down * The Nazz Are Blue * I Can't Make Your Way * Rack My Mind * Hot House Of Omagararshid * Jeff's Boogie * He's Always There * Turn Into Earth * What Do You Want * Happenings Ten Years Time Ago * Psycho Daisies * Stroll On * Little Games (single version) * Puzzles * White Summer * Tinker, Tailor, Soldier, Sailor * No Excess Baggage * Drinking Muddy Water * Only The Black Rose * Ten Little Indians * Ha Ha Said The Clown * Goodnight Sweet Josephine (U.S. version) * Think About It * Knowing (Keith Relf solo track) * Mr. Zero (Keith Relf solo track) * Shapes In My Mind (Keith Relf solo track)