(Originally published 12/99) Well, we're in the midst of the holiday season once again, which means it's time for The Night Owl's 5th Annual Christmas CD Buyers Guide. This year's guide almost didn't happen. The selection of new holiday titles this year was undoubtedly the worst in recent years. Sure, there are a few new ones worth mentioning, but most are just reissues of previous compilations; or in too many cases this year, just plain lame.
In the past, we've always had a rule that we wouldn't mention titles appearing in earlier buyer's guides. This year, we're going to do something a little different. We'll tell you which new titles are worth spending your hard-earned money on, and then we'll have a summary of the best of previous years. Ready?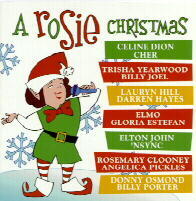 I never thought I'd be recommending anything that involves Rosie O'Donnell, but her new holiday album isn't bad. A Rosie Christmas (Columbia) is aimed at the mainstream pop crowd, and features duets with a wide range of artists. Celine Dion manages to keep her voice in check on "The Magic of Christmas Day," and the duet with Gloria Estefan, "Gonna Eat For Christmas" isn't bad either. At least there's a sense of humor involved. One of the best tracks is her duet with Sir Elton John on "White Christmas." It's nice to hear someone finally doing something different with this song. Other noteworthy tracks include "Winter Wonderland" (with Donny Osmond) and the big band version of "Santa Claus is Coming to Town" (with Rosemary Clooney). Then there's the rest of the disc. Aside from the lyrics, the hip-hop take on "Little Drummer Boy" (with Lauryn Hill) is unrecognizable. I won't even go into the tracks with Cher (can you say "Believe" part 2?), Billy Joel, and boy toy Darren Hayes from Savage Garden. Just say no.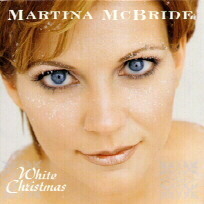 Looking for a great straight-ahead Christmas CD this year? Check out Martina McBride's new one, White Christmas (RCA). While most people will probably associate her with country, McBride sings these 12 traditional carols just the way you remember them. The music doesn't sound country, country-rock, or anything else. Her voice sounds great throughout the disc. It's strong when it needs to be, sweet and tender the rest of the time. Even if you're not a country fan, this is one of the most enjoyable new discs out there this season. Highlights? The whole CD.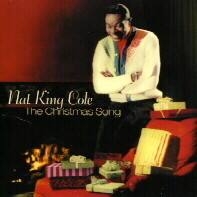 If you're looking for something traditional from a male vocalist, there are three new ones from Capitol that you should look for: Nat King Cole's The Christmas Song, Bing Crosby's Christmas Classics, and A Jolly Christmas from Frank Sinatra. The Nat King Cole CD is guaranteed to please everyone. It includes 2 unreleased tracks (one of which is an unlisted bonus track - the original 1946 version of the title track), plus last year's duet with daughter Natalie (until now, only available through Hallmark Stores). The liner notes tell the tale of what Cole went through when he tried to record "The Christmas Song" with a string section, and how the 1998 duet was realized. Combine great songs with newly remastered sound, and you can't go wrong.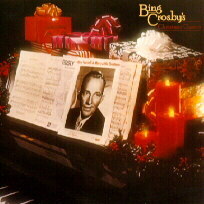 Bing Crosby's Christmas Classics is a great collection with one glaring omission--no "White Christmas." However, if you're like most people, you've probably already got this track on at least one or two other holiday discs anyway (if not, see Santa's Greatest Hits below). Crosby recorded over 100 Christmas tunes throughout his career, and even though "White Christmas" is missing from this CD, this is still a great disc for the holiday season. Originally released in 1962 on the Warner Brothers label, this reissue includes four bonus tracks, including his 1977 duet with David Bowie on "Peace On Earth/Little Drummer Boy."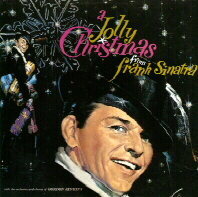 What can I tell you about the Sinatra disc? The 14 songs on A Jolly Christmas have been 24-bit digitally remastered, so the sound quality is exquisite. Frank does a wonderful job on all the songs, especially "White Christmas" and "I'll be Home for Christmas," and Gordon Jenkins' orchestral arrangements throughout the disc are absolutely gorgeous. Sinatra's recently been named the 'entertainer of the century.' Listen to this CD and you'll understand why. He was in prime form for this session. The selections are a superb mix of contemporary and traditional songs. Out of his three holiday albums, this one is by far the best.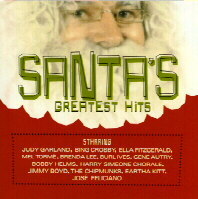 The folks at Hip-O have released a number of new holiday titles this year. One of the best is a compilation called Santa's Greatest Hits. The track list speaks for itself (all the classics are here--well OK, there is a Chipmunks tune on here, but you can always program around it), so I won't go into specifics. If you don't have any holiday CDs, or you're just looking for a great Christmas collection, this is the disc for you. Plus it sounds great. Special kudos go out to Doug Schwartz, who did the mastering on this CD.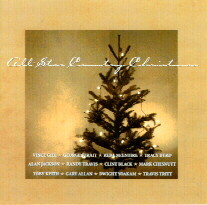 If country music is more your style, pick up a copy of All Star Country Christmas (also on Hip-O). This is the label's third country holiday CD, and it could be their best yet. The CD is loaded with the biggest names in country music--Randy Travis, Clint Black, & Reba McEntire, just to name a few. Some of the many highlights here include Dwight Yoakam's toe-tapper from '97, "Santa Can't Stay," Gary Allan's cover of the Harry Connick, Jr. song, "It Must Have Been Old Santa Claus," and for those who like a little bit of rock thrown in the mix, there's Travis Tritt's great version of "Winter Wonderland."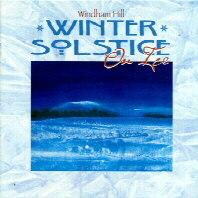 There's one thing that you've always been able to count on when you need to relax during the holidays--Windham Hill's Winter Solstice CDs. However, this year's two-disc collection, Winter Solstice on Ice, falls short. Originally conceived as a soundtrack to an ice-skating special on A&E (available separately on DVD), the first disc follows the usual formula, mixing original tunes with traditional Christmas carols. Liz Story ("Joy to the World") and George Winston ("Skating") both turn in great solo piano performances. Other highlights include tracks by Mark Snow, the L.A. Guitar Quartet, Janis Ian, and the late Michael Hedges. It's the second disc that doesn't measure up. The only track worth mentioning is Yanni's faux-orchestral "Santorini." Skip the rest.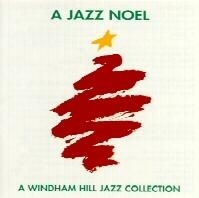 A combination of old and new pop jazzers, A Jazz Noel features 12 homogenized tracks from the likes of Spyro Gyra, Tom Scott, Michael Franks, and The Braxton Brothers. Perfect for the person with mainstream (smooth) jazz tastes, this CD epitomizes the term 'radio friendly,' (read: boring) taking no chances whatsoever. The best tracks come at the end of the CD. Double Scale and Chieli Minucci (both solo and with his group, Special EFX) serve up respectable original tunes, but it's R&B legend Etta James and her rendition of "Please Come Home for Christmas" that stands out above the rest.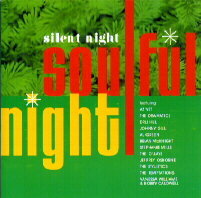 Maybe you're looking for something in the R&B vein. Check out Silent Night, Soulful Night (also on Hip-O). This CD features 12 previously released tracks from a variety of artists and groups, ranging from The Temptations classic take on "Rudolph, the Red-Nosed Reindeer" to newer artists like Az Yet doing "O Come All Ye Faithful." Highlights include Stephanie Mills' a cappella rendition of "White Christmas," The Stylistics' "Silver Bells," and "O Holy Night" by Jeffrey Osborne.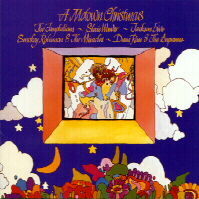 Speaking of R&B, it's gonna be real hard to top this one. A Motown Christmas (Motown) features a whopping 25 tracks of reissued Christmas cheer from some of the biggest names in music: The Supremes, Stevie Wonder, The Jackson 5, Smokey Robinson and the Miracles, The Temptations, plus a rare holiday track from Marvin Gaye. Taken from the '60s and '70s seasonal albums of Motown's hit makers, A Motown Christmas is a spirited collection of holiday favorites from one of pop music's most cherished eras.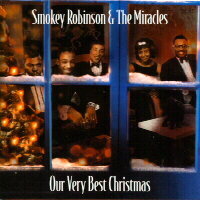 There are two other new Motown reissues this year that you need to know about. The first is Our Very Best Christmas by Smokey Robinson & The Miracles. Updated for this 1999 reissue, these songs come from the group's previous two Christmas releases. Five of the tracks appear in stereo for the first time. More than anything else, this material is a showcase for Robinson's timeless voice. Warm and romantic, Smokey is a consummate singer, one of the true golden throats of the 60's. What you won't know by just looking at the track listing on the CD is that there are two unlisted bonus tracks. Sorry, I'm not going to spoil the fun here. You'll have to listen for yourself.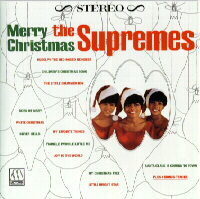 The other new Motown title I wanted to mention is Merry Christmas from The Supremes. This new version of the classic 1965 record includes 6 bonus tracks (and like the Smokey CD, two are unlisted), mixing traditional carols with tunes inspired by the season. If you're a Supremes fan, this CD is a must have for your collection. The bonus tracks include a rare lead vocal by Florence Ballard (I guess Diana Ross got tied up at the airport--sorry, couldn't pass that one up) on "Silent Night." It's a shame that she didn't sing lead more often. She's got a great voice. This track alone is worth the price of the CD. And no, I'm not going tell you what the unlisted bonus tracks are here either.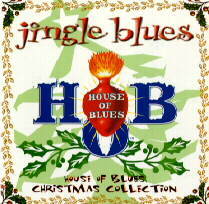 Need something for the blues fans on your list? Be sure to check out Jingle Blues (Platinum Entertainment). This CD covers it all, from the queen of the blues, Bessie Smith (1925) through Texas legends Anson Funderburgh & the Rockets (1995). You get Lightnin' Hopkins' acoustic chestnut, "Santa," Amos Milburn's classic "Let's Make Christmas Merry, Baby," Louis Jordan's "Santa Claus, Santa Claus," just to name a few. If you (or someone on your list) love the blues, and are looking for the perfect Christmas album, this is it.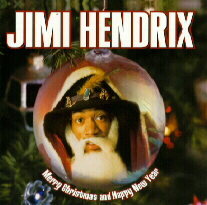 As far as rock titles go this season, there isn't much worth mentioning. MCA and the folks at Experience Hendrix released a holiday single, cleverly titled Merry Christmas and Happy New Year. Made up of only three tracks--two versions of the rare "Little Drummer Boy/Silent Night/Auld Lang Syne" medley, and "Three Little Bears," a throwaway track recorded during the Electric Ladyland sessions--it's a cool collectable for the diehard Jimi fans out there. The best thing about this single is the artwork--an alternate publicity photo of Hendrix in a Santa outfit used to promote the Axis: Bold as Love album. (Collectors note: this one is also available as a 7' single on red vinyl--if you can find it).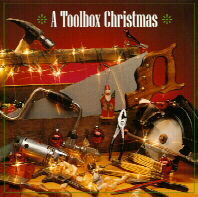 Now for the fun stuff--the novelty discs. When I first heard about A Toolbox Christmas, the first thing I thought was "I've got to include this CD in this year's buyers guide." We always try to make the guides as diverse as possible. This was perfect. I was fully expecting it to be a joke. Much to my surprise, it's actually very good. Woodworking maestro Woody Phillips has taken all your favorite Christmas carols and 'performs' them on a wide assortment of hand and power tools, and a multitude of other things you'd find laying around the workshop. The only thing missing is the smell of fresh sawdust. Great liner notes too.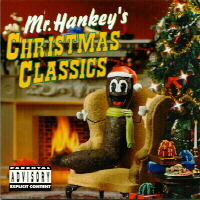 South Park fans, you knew it was coming. That lovable talking piece of poo, Mr. Hankey (or rather SP creators Trey Parker and Matt Stone), finally convinced the folks at Columbia that he needed his own holiday album. Mr. Hankey's Christmas Classics includes all but one song from this year's Christmas musical, plus several others. Highlights? Cartman singing "O Holy Night" and "Swiss Colony Beef Log," Mr. Mackey's overdubbed "Carol of the Bells," Stan's tinsel-toothed sister, Shelley, singing "I Saw Three Ships," "Dreidel, Dreidel, Dreidel," and of course, Kenny & Mr. Hankey doing "The Most Offensive Song Ever." If you don't watch the show, you're bound to be offended by this CD, but for those who appreciate the show's humor, this CD is a must-have for your collection. Mmm-kay!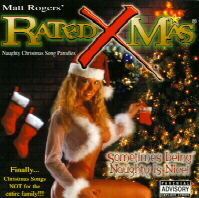 Now what if you've already heard the South Park CD, and want something even more offensive? Well, I've got just the CD for you--Matt Rogers' Rated Xmas. With songs like "Drunken Santa's Coming to Town," "Frosty the Pervert" and "Have Yourself a 1-900-Christmas," this disc is sure to offend. Like the South Park disc, this is definitely not a CD to play when the kids are around. There's a 'clean' version available (the offensive language is replaced by sound effects) designated by an 'SFX' notation on the cover. Even so, neither disc leaves anything to the imagination. This is rudeness & crudeness at its best (or worst).
Well, that's about it for this year's buyer's guide. Hope you enjoyed it! As I mentioned above, we've compiled a list of the best holiday releases reviewed in years past. Rather than break them into specific genres, they're listed below in alphabetical order. All of these discs should still be available. If you want more information, just click on the individual titles. You'll be able to see track listings, hear sound clips, and purchase them online too, if you like. Of course, you can always check out the guides from previous years for things that may be harder to find, etc.
From all of us here at The Night Owl to all of you, have a Merry Christmas and a safe and Happy New Year! See you in the new millennium!!
Recommended holiday titles from The Night Owl:
Louis Armstrong - What a Wonderful Christmas (Hip-O)
Big Rhythm - A Swingin' Christmas (Warner Brothers)
Charles Brown - Cool Christmas Blues (Bullseye Blues)
Ray Charles - The Spirit of Christmas (Atlantic/Rhino)
Bing Crosby - The Voice of Christmas (MCA/Decca)
Esquivel - Merry Xmas From the Space-Age Bachelor Pad (Bar None)
Vince Guaraldi Trio - A Charlie Brown Christmas (Fantasy)
Gary Hoey - Ho Ho Hoey III (Surf Dog)
Dave Koz - December Makes Me Feel This Way (Capitol)
Arthur Lyman - With a Christmas Vibe (Rykodisc)
Mannheim Steamroller - Christmas (American Gramaphone)
Elvis Presley - Elvis' Christmas Album (RCA)
Bob Rivers - I am Santa Claus (Atlantic)
Bob Rivers - Twisted Christmas (Atlantic)
Bob Rivers - More Twisted Christmas (Atlantic)
Trans-Siberian Orchestra - Christmas Eve And Other Stories (Atlantic/Lava)
Vince Vance & The Valiants - All I Want For Christmas is You (Waldoxy)
Various Artists - A Country Superstar Christmas (Hip-O)
Various Artists - A Very Special Christmas (A&M)
Various Artists - A Very Special Christmas 2 (A&M)
Various Artists - Billboard Greatest Christmas Hits 1935-1954 (Rhino)
Various Artists - Billboard Greatest Christmas Hits 1955-Present (Rhino)
Various Artists - Billboard Presents: Family Christmas Classics (Rhino)
Various Artists - Blue Yule (Rhino)
Various Artists - Bullseye Blues Christmas (Bullseye Blues)
Various Artists - Christmas Songs (Milestone)
Various Artists - Dr. Demento's Holidays in Dementia (Rhino)
Various Artists - Hipster's Holiday (Rhino)
Various Artists - Jazz for Joy (Verve)
Various Artists - Jazz to the World (Blue Note)
Various Artists - Merry Axemas: A Guitar Christmas (Epic)
Various Artists - Merry Axemas 2: More Guitars For Christmas (Epic)
Various Artists - Natty & Nice: A Reggae Christmas (Rhino)
Various Artists - Punk Rock Xmas (Rhino)
Various Artists - Superstar Christmas (Epic)
Various Artists - The Best Christmas Ever (Virgin)
Various Artists - The Carols of Christmas II (Windham Hill)
Various Artists - Ultra Lounge: Christmas Cocktails (Capitol)
Various Artists - Ultra Lounge: Christmas Cocktails 2 (Capitol)
Various Artists - Yule B' Swingin' (Hip-O)
Various Artists - Yule Be Boppin' (Blue Note)
Various Artists - Yuletide Soiree (Rhino)
Dwight Yoakam - Come on Christmas (Reprise)