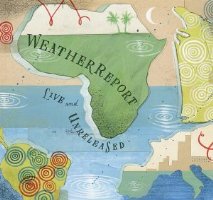 For fifteen years, Weather Report was regarded by many as the premiere fusion band. The group employed an unprecedented array of electronic instruments and incorporated popular dance rhythms to win a wider audience than had any jazz ensemble since the big band era. Yet, its keyboardist, Joe Zawinul disliked the fusion tag: "I think most fusion music stinks and to be put in the fusion category is an insult… We don't play rock 'n' roll or jazz-rock or whatever that crap is. We play our own original music…"
Certainly, Weather Report claimed ambitions far beyond those of contemporary fusion bands. In its best work, the group achieved a novel synthesis of European compositional structure and African-derived rhythm. And by amplifying the sound of its instruments, Weather Report regained the dynamic range and impact of the big band, while retaining the flexibility and communication of the small group. But despite Zawinul's protests, Weather Report, with its sound effects, irony, and musical allusion, also owed much to The Beatles' studio evocations.
Live and Unreleased is a two-disc set drawn from concerts ranging from 1975 through 1983; and is the first new Weather Report release since the group's demise in 1986. The selections are sequenced by Zawinul to create an idealized concert. The group's two principals, Zawinul and Wayne Shorter (saxes) were present throughout this period, but the rhythm section personnel changed several times. Consequently, those listening to this fictional set from beginning to end will encounter some jarring transitions. Nonetheless, with a little effort, it is possible to reprogram the tracks and gain some interesting insights about Weather Report in its heyday.
It is generally assumed that live performance provides the true test of a jazz band. But despite the musicians' evident technical prowess, Live and Unreleased makes clear that Weather Report was first and foremost a studio creation. With few exceptions, the more complex and colorful studio recordings are preferable to the live presentations. Zawinul's studio overdubbing was so extensive that the recordings could not be reproduced live.
Weather Report was principally a composer's band. Zawinul and Shorter collaborated in creating highly imaginative aural dreamscapes where improvised solos are integrated into the whole. On their Black Market and Heavy Weather albums, this collaboration reached a kind of perfection, with bassist Alphonso Johnson providing a supple beat that matched the gracious conception. "Directions/Dr. Honoris Causa," included here from a 1975 performance, certainly the surprise--and perhaps the highlight--of the set, provides further evidence of the evocative power of this band.
In 1976, the extraordinarily talented electric bassist, Jaco Pastorius, joined the band and upset its equilibrium. Certainly, Jaco had a romantic side, particularly when playing melodic lines or delicate harmonic overtones on his fretless bass (as on "Waterfall"). But, where Shorter was self-effacing and a master of indirection, Jaco was extroverted and spontaneous. Zawinul liked Jaco's brash character. He called Jaco the band's "warhead." But soon, Jaco transformed such rhythmically subtle pieces as "Black Market" and "Elegant People" into driving funk pieces, and as a consequence, Wayne Shorter began a slow withdrawal.
Zawinul transferred his collaborative relationship to Jaco. This relationship, although intensely personal, also became highly competitive artistically. At first, this competition was destructive, resulting in the self-indulgent excesses of albums like Mr. Gone and 8:30. However, by 1979, Zawinul and Pastorius made some adjustments to one another that led to a new creative period and two additional strong albums--Night Passage and Weather Report.
Zawinul and Pastorius then conceived two new approaches to composition. The first they called neo-bop ("Fast City")--patterned in part on Jaco's famous solo performance of Charlie Parker's "Donna Lee. The second--and more original--approach is best exemplified here by "Port of Entry."
By 1979, Jaco had convinced Zawinul of the primacy of open-ended funk lines. Zawinul then enlarged on the concept. He began to write highly complex structures, in which each instrument is assigned a simple repetitive rhythmic pattern that interlocks with the others to form a whole. With this conception, Zawinul departed from his earlier compositional practice in two respects: no part of the beat-complex is ever foregrounded or backgrounded, and no player ever steps to the front as soloist. Incredibly, these airy, lattice-like structures facilitated constantly varied, subtly interactive performances.
Drummer Peter Erskine and Pastorius departed the band in 1982, effectively ending the group's period of groundbreaking creativity. The efforts of the subsequent incarnation of Weather Report, featuring Omar Hakim on drums and Victor Bailey on bass, are best forgotten (although three of their tracks are included here).
Regrettably there are no performances of the Black Market compositions featuring Alphonso Johnson. That edition of the group plays only the inferior Tale Spinnin' material. Although several of the Pastorius-era tunes on Live and Unreleased end predictably and annoyingly in frantic raves (to the delight of the audience), there are seven or eight performances, including those noted above, that justify acquisition of the set.