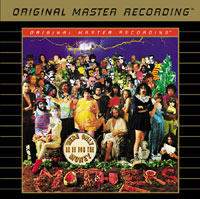 When I first read that Mobile Fidelity was releasing a 24K gold version of the Mothers classic, We're Only in it for the Money, there were two initial thoughts that went through my mind. My initial reaction was "cool--can't wait to hear it!" My second reaction was actually a question--which version of the album were they going to use? After all, MoFi is known as the purveyor of the 'Original Master Recording,' right? Did that mean that the original, uncensored version of the album was going to become available for the first time since the first vinyl pressings on Verve? No such luck,
Zappa fans.
What MoFi has released is essentially the same as the 1995 Rykodisc CD (which was a combination of the first and second Verve pressings). "Concentration Moon" is missing the whispered line about The Velvet Underground. "Harry, You're a Beast" still has the "don't come in me" lines censored. "Hot Poop" has the censored lines from "Mother People" in reverse. "Let's Make the Water Turn Black" still has the "aprons & pads" line intact.
As for the sound quality, the MoFi disc has (marginally) better sound than the 1995 CD and a slightly higher output level. The packaging is worth noting too. The original cover art has been restored (the black bars over the eyes of some of the people are gone). The rest of the artwork has been faithfully reproduced as well--incorporating the additional photos from the Ryko CD and the insert that came with the original album.
Like all the titles in the Ultradisc II line, We're Only in it for the Money will only be available for a limited time. So, if you're an FZ collector or completist (I'm not the only one with seven different versions of this album, am I?), you'll definitely want to add this to your collection (by rachael brown). Until someone uncovers Zappa's true masters (which are allegedly long gone), MoFi's 'Original Master Recording' is the best version of the album currently available.