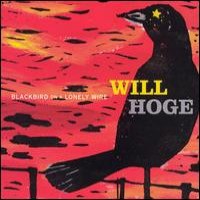 Contrary to popular belief, not all twenty-something's are promotional powerhouses, full of flashy images; candy coated one-liners and little less. Recently there has been a resurgence of young songwriters with a purpose (i.e. John Mayer, Jason Mraz). Singer/songwriter Will Hoge is yet another of a previously thought to be dying breed of rockers with soul, sophistication and perhaps most importantly, staying power.
A consistent record from start to finish, Blackbird on a Lonely Wire is a solid collection of songs about topics ranging from heartbreak ("Someone Else's Baby," "Hey Tonight") to the heartland ("Better Off Now"). Hoge is already in good company, being compared to such 'senior' rockers as Tom Petty and Bruce Springsteen. Still, contemporary comparisons are apparent throughout the album as well.
"King of Grey," for instance, is a sweeping ballad not unlike the sound of Edwin McCain. "Better Off Now" pairs a lyrically intoxicating Sister Hazel-esque chorus with an Elvis Costello inspired riff. Meanwhile, "Doesn't Have to Be That Way" shows off Hoge's soon to be signature blues side, akin to the Jeff Healey Band. Collaborations are also in the mix as "Baby Girl" features fellow songwriter and label mate, Michelle Branch.
While comparisons--both old and new--are likely to be handed out, Hoge still manages to make rock music sound new, original, and even exciting, a feat accomplished by few in the digital download era.
On "Not That Cool," Hoge sings, "it must feel so fine to get what you want every time…like James Dean…but I'm not just not that cool you see." Ironically, it is such modesty that makes Hoge not likely to be "uncool" for too long.