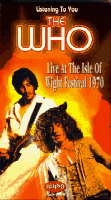 Who fans in the US have been patiently waiting for this video to be released, and now they're finally getting their wish. In addition to several Who classics and the majority of Tommy, the Isle of Wight show saw the debut of new songs like "Water" and "Naked Eye" (unfortunately missing from the video). This particular performance came at the end of months of touring, and the band was in fine form.
Pete Townshend's guitar work throughout the concert is stellar; especially when you take into consideration the fact that he's playing like this at the same time that he's leaping through the air and bloodying his fingers from the windmills. Bassist John Entwistle is in his classic pose; standing motionless at stage right with his fingers a blur, observing all that's going on around him. Roger Daltrey's vocals and microphone acrobatics are the stuff legends are made of. And then there's Keith Moon, thrashing away on the drums like only he could. It's a shame he's not around anymore to show his imitators the way it's done.
Performance wise, this show is better than the famous Leeds concert. The band was definitely on for this one. My only complaint is that they didn't release the entire show. Aside from that, Listening to You captures the band at the peak of their power and no self-respecting Who fan should be without it.