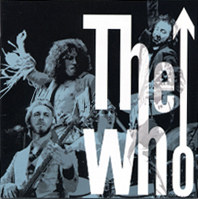 Well, well, well… Another greatest hits collection from "The 'Orrible Oo." How many is this now--a dozen? Doesn't matter. The best one just hit the racks in your favorite CD store. The Ultimate Collection covers the band's entire recorded output on 2 CDs (or 3, if you're lucky enough to get one of the early pressings).
Naturally, if you ask a long time fan what it would take to create 'the ultimate Who collection,' the answer would be "all the albums." There's no way to put all of the best Who songs on 2 (or even 3) CDs. There are way too many to choose from. How can you leave off something from Who's Next or Quadrophenia?
What MCA did this time out is to produce a collection of tunes that will appeal mainly to the newbies. However, they didn't slight the long time fans either. In addition to this being the first Who compilation to be taken completely from the master tapes, the first pressing includes a bonus disc with 4 unreleased songs, and a sticker. The booklet is outstanding, with 28 pages of photos, history, and informative liner notes by Matt Kent and Andy Neill.
From a historical standpoint, this is hands down the best Who compilation to be released. It's not perfect (no compilation is), but it's damned close.
TRACK LIST:
Disc One - I Can't Explain * Anyway, Anyhow, Anywhere * My Generation * The Kids are Alright * A Legal Matter * Substitute * I'm a Boy * Boris the Spider * Happy Jack * Pictures of Lily * I Can See For Miles * Call Me Lightning * Magic Bus * Pinball Wizard * I'm Free * See Me Feel Me * The Seeker * Summertime Blues (live) * My Wife * Baba O'Riley * Bargain
Disc Two - Behind Blue Eyes * Won't Get Fooled Again * Let's See Action * Pure and Easy * Join Together * Long Live Rock * The Real Me * 5:15 * Love Reign O'er Me * Squeeze Box * Who Are You * Sister Disco * You Better You Bet * Eminence Front
Bonus Disc - Substitute (US single version) * I'm a Boy (early version) * Happy Jack (acoustic version) * Magic Bus (UK single version)