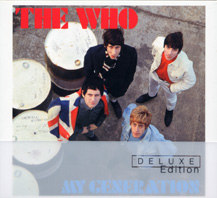 The Who's back catalog has been reissued several times over the last few years, but the one album that was always missing (at least with acceptable sound quality anyway) has been the band's debut--My Generation. The main problem was The Who's then-producer, Shel Talmy, didn't want to release the master tapes. Well folks, the wait is over. Digitally remastered from Talmy's original three-track tapes, the definitive edition of My Generation has just been released.
Spanning two CDs, the original stereo version of the album has been upgraded and augmented with a staggering 17 bonus tracks--including six that have never seen the light of day. The original album speaks for itself, but it's the bonus tracks that will have Who fans clamoring. There are alternate versions of "Leaving Here" and "Anyway, Anyhow, Anywhere," plus newly discovered full-length versions of "I Don't Mind" and "The Good's Gone" and a 'new' track called "Instant Party Mixture."
One of the coolest things on the new deluxe edition is the instrumental version of "My Generation," which gives the listener a real insight into the recording process. Taking the opposite approach is the acapella version of "Anytime You Want Me." Hardcore fans will no doubt be upset that they didn't release everything that Talmy had (there were close to 2 ½ hours of material in the vaults), but the tracks that are included here are sure to please.
As with all the other MCA "Deluxe Editions," this one is full of goodies. Three different essays on the album, from Talmy, Mike Shaw (The Who's first production manager), and author Andy Neill, loads of rare photos, and full session information for each track. They even replicated the Brunswick and pink Decca labels for the CDs. Who fans--your wait is finally over.