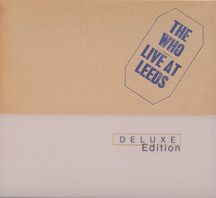 It seems like just yesterday when MCA reissued the 'new' Live at Leeds (it was actually in 1995). Expanded to almost twice the length of the original album, it was reissued in two different packages: the first was a standard CD, the second was a limited edition album-sized package containing all the inserts from the original album. Now MCA has released yet another version of the infamous 2/14/70 concert from Leeds University. This time, it's being touted as the 'complete' show (it's not, however) on two CDs, digitally remixed and remastered. Pete Townshend supervised the remix himself.
For the new 'deluxe edition,' the label added the complete performance of Tommy. What they didn't do, is keep the show in its original running order. The Who tours of 1969-70 all featured Tommy in its entirety, but it came during the middle of the show, rather than at the end. The new liner notes reflect this. Diehard Who fans will be disappointed by this; but for those who don't know otherwise, this makes perfect sense. You can hear Tommy from start to finish without having to change discs. The other thing that keeps this from being complete is the omission of "Spoonful" in the middle of "Shakin' All Over."
If you're not a diehard Who fan, though, you can't go wrong with this new version. This album has long been considered one of the best live albums ever produced, and with good reason. The performance is outstanding, and the new packaging is cool too--even if the inserts are reduced to photos inside the booklet. There are new liner notes and photos, and the 'crackling noise' that was deemed "OK" in the past has been corrected. Even if you have a copy of the original unedited show, the new deluxe edition of Live at Leeds is a required addition to any Who collection.