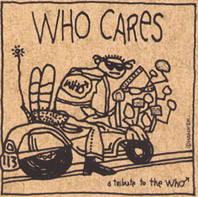 At best, tribute albums are usually a hit or miss affair. This one's no different. The songs run the gamut from not bad overall to virtually unrecognizable and/or unlistenable. 4 Hour Ramona's take on "The Seeker" is one of the CD's better tracks. The vocals sound a bit like Timbuk 3, with the male/female lead vocals. The band changed the lyrics in the 2nd verse ("I asked Ozzy Ozbourne, I asked (someone unrecognizable), I asked Oprah Winfrey, but she couldn't help me either"). Whoever plays harmonica on the track--there are no musician credits listed for any of the tracks--obviously studied Roger Daltrey's technique. Peter Parker turns in a fairly decent version of "I Can See For Miles," and for the first time, you can actually understand the lyrics!
The Penningtones contribute a countrified version of "So Sad About Us." What makes this track notable is the inclusion of the "we'll soon be home" part from "A Quick One." The vocals on Blue Collar Love's rendition of "Substitute" almost sound like Natalie Merchant. Musically, it's a bit more pop than the original, but it's not bad. One of the coolest songs on Who Cares is Trance to the Sun's minimalist approach to "The Real Me." Drastically different, it's one of the few instances where the artist takes liberties with the original song and it works. Then there are the others…
Looking for a great song to annoy your neighbors? Crank up Clang Quartet's lo-fi version of "Magic Bus," or the unrecognizable "Baba O'Riley" by Sound Rangers. Wait, there's more! If these two don't do the trick, put on 212's horrid so-called cover of "Pictures of Lily." After repeated attempts to listen to this one, I still don't hear anything that remotely resembles the original, aside from a repeated "lily" now and then. This one's sure to get people's attention--and not in a good way.
Maybe you just want to piss off a Who fan… Check out Henry Boy's nauseating cover of "Won't Get Fooled Again." You'll be wishing you could hear The Wallflowers' version after listening to this. On a positive note, one of the coolest things about this CD is the artwork. Boy (who goes uncredited on the artwork aside from the 'Hank2K' in the corner of the booklet) came up with what appears to be quickly (but cleverly) drawn interpretations of the covers of Who's Next and Quadrophenia, and each band member.
As you can see, Who Cares is definitely a mixed bag. None of the covers are as good as the originals, but there are at least a few that fall into the 'interesting' category. If you're a hardcore Who completist with extra cash lying around, this CD is right up your alley. Otherwise, stick with the originals.