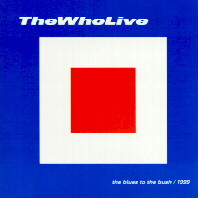 Before I get into this review, let me just qualify things (not that I need to, but I will anyway) by saying that I've been a Who fan for longer than I care to admit. I've seen the band in various forms over the years--group and solo--and I've heard tons of 'bootleg' material. So the burning question here is simple: where does The Blues to the Bush fall within all that? The answer is somewhere in the middle. The good thing about this new release is that this time out, they're doing it for the right reason--because they want to. Some of the performances fall into the 'why are they releasing this again' category (like "Baba O'Riley," "Boris the Spider," "Pinball Wizard," "You Better You Bet," etc.), while others are truly inspired and rank among the best things they've ever done. The sound quality is outstanding also, better than any of their other live releases.
The biggest problem I have with this album is the fade out after every track, which means there is little or no stage banter to give the CD a real live 'feel.' Sure, you can download individual tracks from the MusicMaker.com site, but if you're going to purchase the whole thing, it would be nice if they had a 'non-edited' version. Unfortunately, that's not the case. Also, there are no track listings on the jewel cases (the discs arrived in 2 identical cases). To see what's on the CD, you have to look at the CD itself. On a positive note, it's clear that TED (that's Pete Townshend, John Entwistle & Roger Daltrey for the newbies out there, along with John 'Rabbit' Bundrick on keyboards and Zak Starkey on the drum kit) can still rock out with the best of them. There are also several tracks that have never appeared live on a commercial Who release. Having said all that, let's talk about what's important here--the music.
An energetic version of "I Can't Explain kicks off the first disc, with Townshend raging on the guitar. "Substitute" suffers from a poor mix. Entwistle is barely audible, even during his mid-song solo. Rabbit shouldn't be there at all. For "Anyway Anyhow Anywhere," Daltrey's vocals are a bit rough, but Pete sounds great. Zak does a good Keith Moon imitation on the song, which is slightly longer than the studio version. The first real highlight on disc one is "My Wife." Daltrey 'helps' Entwistle with the vocals (even though his voice sounds fine by itself), and the band jumps on this first opportunity to stretch out and really jam. "Pure and Easy" is just OK. I normally don't like to hear bands sound like their records onstage; but in this case, the song's ending should have stayed closer to the original. "I'm a Boy" has a much harder edge than the studio version, and is a welcome improvement. The next big highlight is "Getting in Tune." Roger's vocals are a little weak toward the end of the song. Otherwise, it's a great version. "The Real Me" has always been a favorite among Who fans. Unfortunately, here it suffers from another bad mix. John's bass is way too low in the mix (inexcusable for such an essential element of the song), and Rabbit's too loud. Daltrey turns in a gallant effort on vocals, Townshend sounds great on guitar, and Starkey turns in a respectable performance on the drums.
Moving on to disc two, we have "Behind Blue Eyes." This is another one of those songs that really don't need to be released again; but in this case, it's one of the best versions ever. Ditto for "Magic Bus." For some reason, this has always been one of The Who's most requested songs; and again, one of their better versions. As for "Boris the Spider," Entwistle doesn't even like this song anymore, so why is it here? "After the Fire" isn't too bad, although it's not as good as Roger or Pete's solo version. On "5:15," you'll swear Pete's sleeping till the guitar solo (his vocals couldn't sound more lackadaisical if he tried), then he suddenly wakes up & jams. Thankfully, now you can hear Entwistle too (just in time for the bass solo). Once Pete wakes up, it's a killer performance. It's not a Who (or TED) show without "Won't Get Fooled Again" & this is a great version. It's also the true test of Roger's voice (we'll give him a B this time out). "The Kids are Alright" worked much better in an acoustic setting (i.e. last year's Bridge Benefits). This rendition sounds too much like the studio version. This brings us to the classic, "My Generation." In this particular instance, they saved the best for last. Pete plays and sings with more enthusiasm and wild abandon than he has in years, possibly even outdoing the version on Live at Leeds. This track alone is worth the price of the discs.
It's great to hear that the band still has it in them (especially in this 'stripped down' lineup), even though the performance quality varies considerably from track to track. While there are a number of tracks that should've been left off, overall, The Blues to the Bush contains a number of inspired renditions of The Who's biggest hits. And when they're 'on' (as they are in several cases here), no one comes close to The Who for pure, unbridled energy onstage.