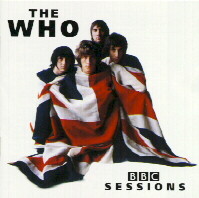 Well, it seems like it's been forever since this CD was first announced (it's been almost a year), but it's finally here. The Who's BBC Sessions have been available on bootlegs for years in various forms, but now you can finally pick up a copy from your local CD shop. Was it worth the wait? You bet. The performances included on the MCA disc range from 1965-1973, and there's not a bad one in the bunch. Some of them are actually better than the ones we all know and love.
The disc starts and ends with two of the band's commercials for the BBC, set to the tune of "My Generation" and "Boris the Spider." Between these tracks, you get a wide sampling of the band's hits and assorted albums tracks, along with a few things that most fans haven't had a chance to hear. Especially noteworthy are the extended version of "Relay" and a rare version of "Long Live Rock" where Pete Townshend shares the vocals with Roger Daltrey. On the latter, Townshend flubs the lyrics on the last verse, adding a bit of humor to things.
The booklet is loaded with photos, and features extensive liner notes. Obviously, this disc is a must-have for any Who fan (yes, even if you already have the boots). But newbies and casual listeners will find it enjoyable as well. Highly recommended.