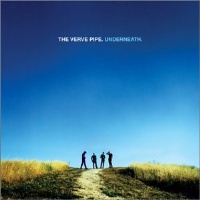 These days, everyone is all about changing with the times and riding the coattails of trends. Bands once popular, albeit briefly, are throwing their hats back in to the ring, hoping to make it big a second time. The Verve Pipe is a classic case of the once famous, looking to score again. Back in 1996, they struck gold with their somber single, "Freshmen." (Not to be confused with The Verve who had a solitary "hit" with "Bittersweet Symphony.") While they have revisited success since, nothing has come close to matching neither the impact nor the quality of their initial hit.
The Verve Pipe's new album, Underneath, places the band at a pivotal point in their career. Fans who know of The Verve Pipe for creating slightly gritty alternative rock might be shocked to see what Underneath exposes. For starters, Adam Schlesinger of Fountains of Wayne fame produces the album. Anyone familiar with Schlesinger or his sound knows that his name is synonymous with light, near power pop creations. The unlikely partnership is not as out there as some might think, as evidenced on a majority of the new material.
The first track, "Only Words," is a surprisingly mellow tune with a chorus that actually evokes memories of Toto's "Africa." "Never Let You Down," the first single, is a hummable, lovable tune where the 'changing of the guard' is most felt. Overall, the new sound teeters between being upbeat and brazen to personal and reflective, the latter suiting them best. "Miles Away" carries a message that resonates, while "Gotta Move On" proves that The Verve Pipe wears melancholy well.
Of all the tracks, "Colorful" is perhaps the best illustration of attempting to reclaim "Freshmen" glory. It's not likely to happen with this one, but it remains a strong tune nonetheless.