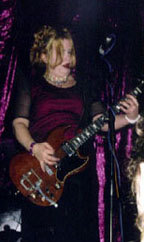 "Leave me lying here, because I don't wanna go." That was what Louise Post sang in the second song as Veruca Salt played the Canopy on June 7th. Ninety minutes and two encores later, the lyrics still rang true to her many fans at the end of one of the most intense sets played on stage at the Canopy Club this year. Post came out in all her glory strapped with her Gibson SG guitar ready to rock with both barrels. Veruca Salt opened the show with "Straight" and broke right into "Volcano Girls."
The set didn't slow down until the fifth song when Post sang an acapella version of "One Last Time" as the crowd exploded with cheers from the emotional lyrics. The first set ended with the aggressive "Shimmer," but the crowd would not be denied as they stuck around waiting for their femme fatale to return. Post came back passing out flowers to her adoring female fans and picked up the acoustic guitar with her bass player Gina Crosley to play a stirring rendition of "Wolf." The show ended just as it started--loud and wild with "Officially Dead" and "Victrola."
Post and her band may have not left the crowd lying there, but they sure didn't want to go. "I love to play Champaign," Post said after the show. "We have played here a lot over the years and the fans always bring out the best in us. So we definitely hit the stage with a different attitude when we are here. It's fun to get out there and play the music you have created," Post said. "But at the same time it gets very frustrating. The radio stations and such treat women singers like a novelty act. So we are trying to change that and raise the bar for other girl bands."
Post is currently working with Hole guitarist/singer Courtney Love in Los Angeles on a side project and is working on a new Veruca Salt CD for the future. Judging by the response from her admirers at the Canopy Club, there is no doubt that Louise Post and Veruca Salt are still making quite a statement.