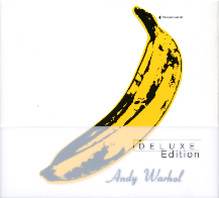 Primarily known at the time as protégés of Andy Warhol (who also designed the infamous cover art), The Velvet Underground has long been touted as one of the most influential groups of the rock era. Although they weren't particularly adept at their instruments, they had a reputation as a fiery and dissonant live band. With Lou Reed on lead guitar & vocals; Moe Tucker on drums; John Cale on viola, bass & drums; Sterling Morrison doubling on bass and rhythm guitar; and former model and chanteuse, Nico on vocals, they created some of the most innovative sounds anyone had ever heard.
The Velvet Underground & Nico (their debut album) was recorded & mixed to mono in a scant 4 days. MGM (who owned Verve, the band's original label) thought it would be a good idea to electronically re-channel the album to stereo, against the better judgment of the band. Morrison thought the process "softened" the mix. The mono version of the album has been highly sought after by collectors for years. It makes its CD debut here in the U.S. in Polydor's new 2CD 'deluxe edition.'
Musically, the songs speak for themselves. Tracks like "I'm Waiting for the Man," "Femme Fatale," "Venus in Furs," "All Tomorrow's Parties," and "Heroin" have been covered by everyone from David Bowie to Duran Duran to Dave Navarro to Siouxsie & the Banshees to Nick Cave. The list is endless. Some of the Nico songs sound dated at this point, but hey--it's not 1967 anymore either.
Of course, the burning question here is "why should I spend the extra money on the 'deluxe edition' when I can get the 'regular' disc that's been available for years?" This one's easy. Aside from getting the hard-to-find mono version of the album and the stereo version on separate remastered CDs, each disc includes bonus tracks as well. The packaging has been expanded to include a 28-page booklet containing new liner notes, lyrics to all the songs, and loads of rare photos. And for the collectors out there, the limited deluxe edition features a peelable banana on the cover--just like the original album.
My recommendation? Whether you're a long time Lou Reed fan, or just someone looking for a musical history lesson, this is where it all begins.