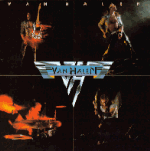 When Van Halen burst onto the scene back in 1978, the world discovered a new guitar hero. No one played like Eddie Van Halen. His two-handed style of hammering the strings set a new precedent for guitarists everywhere. From the beginning of "Runnin' With the Devil," you knew you were gonna be in for the ride of your life. Now, you can relive the excitement of Van Halen's debut album, thanks to the folks at DCC. Sure, the original album sounded great. The CD does too. But they don't compare to the new vinyl and 24K gold CD pressings from DCC.
There are a few differences in the two formats, and I'll tell you about each of them. Overall, the CD has a brighter sound than the vinyl. The vinyl has much better low end though; and at a high volume (how else would you listen to this album?), the vinyl sounds better than the CD. "Runnin' With the Devil" has more punch on the vinyl pressing, and the music has better definition. On the CD, the vocals are more defined--especially the harmonies. Eddie's classic, "Eruption" has more reverb on the vinyl; and Michael Anthony gets a better bass sound on the band's cover of "You Really Got Me."
Sticking with the vinyl, Alex Van Halen's drums are tighter on "Ain't Talkin' 'Bout Love;" and on "I'm the One," the bass and drums are nothing short of phenomenal. Anthony's thumping bass kicks some major ass and the drums are noticeably more prominent. Going back to the CD, the vocals are clearer and the cymbals are brighter on Jamie's Cryin'." "Atomic Punk" has better bass response on the vinyl, but the overall definition is better on the CD for both "Feel Your Love Tonight" and "Little Dreamer." The vinyl pressing suffers from intro bleed-through on both of these tracks. This is of course an inherent problem with vinyl in general, and not a fault in the pressing.
The acoustic intro on "Ice Cream Man" is much warmer on the vinyl pressing; and while there is some bleed-through on the intro to "On Fire," the drums have more power and impact than they do on the CD. So the question is--which one do you choose? It all depends on your preferences. If you have a turntable, go for the vinyl. If you don't, you won't be disappointed with the sound quality on the CD at all. They both sound great. If you only buy one Van Halen album, this is the one to get.
This CD/album is now available in record stores and finer high end stores everywhere.