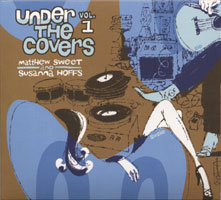 We get a ton of CDs for review here at The Night Owl. Most of them come with press releases from the record companies, letting us know why their artists' new release is the best thing you've ever heard. A lot of the time, something will look great in the press release, but after listening to it, it doesn't quite live up to expectations. However, I'm happy to report that the latest effort from Sid & Suzie (aka Matthew Sweet and Susanna Hoffs), Under the Covers - Volume One, (for the most part) sounds at least as good as it looks on paper.
Sweet perfected power pop back in the early 90's with albums like Girlfriend and Altered Beast. Hoffs was a part of the seminal 80's band, The Bangles. Together, they do a fine job on the majority of the CD's 15 tracks. Some of the songs are well known (hits by The Who, The Beatles, Bob Dylan, and two from Neil Young), while others are not so well known (The Marmalade - one of the best tracks on the CD, Fairport Convention, The Left Banke).
One of the coolest things about this disc is rediscovering old songs that you had forgotten about - whether you originally liked them or not. These classic tracks from the mid to late 60's have been etched into our minds via classic rock radio, TV commercials, etc etc. Highlights abound here--"I See the Rain," "And Your Bird Can Sing," "It's All Over Now, Baby Blue," "Cinnamon Girl," "Alone Again Or," and "The Kids are Alright" just to name a few. The only times that the CD falls short is when Hoffs' vocals go out of her (limited) range. Other than that, this is a can't miss disc. Hopefully, we won't have to wait long for Volume Two...