"…(It) ain't the blues, it ain't rock & roll, it's all of them put together. Because to me, the blues is anything that you play from your heart." - Walter Trout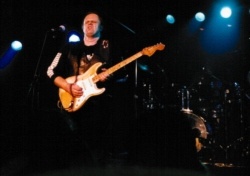 There's an old question that's been around for years: can a white boy play the blues? Well, when the 'white boy' is Walter Trout, the answer is a resounding "hell, yes!" Working their way through a combination of songs from his two US albums and a handful of choice covers, Trout and his band blew the roof off Mississippi Nights for the next 2½ hours. For those of you who may not be familiar with Trout, he was recently voted #6 in the BBC Top Guitarists poll--just two spots behind some guy named Jimmy Page. The man is no slouch on the guitar. He paid his dues by playing with the likes of Big Mama Thornton, Joe Tex and John Lee Hooker, and spent five years each with Canned Heat and John Mayall's Bluesbreakers. Are you impressed yet? Read on…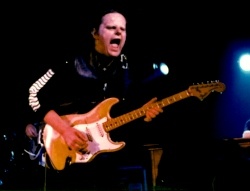 Trout opened the show with two tracks from his earlier albums, then launched into an extended version of his latest hit, "Got a Broken Heart." Trout and his band had the sold out St. Louis crowd in the palm of his hand by this early point in the show and never let up for a second. "The Reason I'm Gone" was introduced by Trout as a "down in the alley, dirty, nasty blues." I couldn't have said it better myself. If anyone had any doubts as to Trout's abilities, they were quickly dismissed after hearing this song.
The band slowed things down a bit on "Marie's Mood," an emotive instrumental track dedicated to his wife. Trout plays with an enormous amount of expression and feeling, and the song brought a tear to his eye when it was all over. Judging from the crowd's reaction, the highlight of the show was a cover of Jimi Hendrix's "Red House," where Trout let his beat up Stratocaster told the story of how his second child was conceived. You had to be there…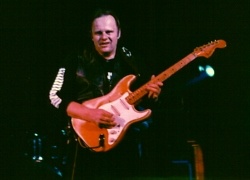 Naturally, since they were playing in St. Louis, they played the obligatory Chuck Berry tune. This time out, it was a rocking version of "Little Queenie." Two more covers followed after that--Bob Dylan's "I Shall Be Released" and a killer rendition of John Lee Hooker's "It Serves You Right to Suffer." The latter featured a powerful solo from drummer Bernard Purshie. After an inspired two-song encore, Trout and his band called it a night, and the crowd dissipated into the streets.
Anyone who's heard Walter Trout's new CD will tell you the man's a great guitarist. But as good as the CD is, it doesn't come close to seeing him perform live. If he comes to a town anywhere near you, do whatever is necessary to see this show. It'll be one of the best concerts you'll see all year.