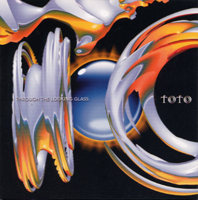 "This is a rendering of masterpieces that could not have been perfected, only interpreted and passed down to the next runner... This is a musical mirror of our true reflections." - from the CD liner notes
I've been a Toto fan since the beginning (for the most part), so when I heard that they were going to release a collection of cover songs, I thought it sounded like a cool idea. Unfortunately, with a few exceptions, this is a perfect example of one of those CDs that looks good when you hear about it, but doesn't measure up when you hit the play button.
The idea was to give fans a glimpse into the musical influences of the band. There aren't any real surprises here, except for maybe the fact that the CD is a disappointment. Considering the fact that Toto is made up of some of the finest musicians on the planet, I expected more.
The CD's leadoff track and first single, "Could You Be Loved" (Bob Marley) is just plain awful. If Marley could hear this, he'd be rolling over in his grave. The 'ad libs' on the song, courtesy of James Ingram, are an embarrassment to both the band and Ingram. Do yourself a favor and skip this track. Up next is "Bodhisattva." Now this is what you'd expect from a band of this caliber. Great rendition of the Steely Dan rocker, and some incendiary fretwork from guitarist Steve Lukather.
Aside from Luke's solos, "While My Guitar Gently Weeps" sits firmly in smooth jazz mode. "I Can't Get Next to You" and "Living For the City" pale in comparison to the originals. There are some songs that you just don't mess with, and these are two of them. Herbie Hancock's "Maiden Voyage" and "Butterfly" get an update from the band, and the results are quite enjoyable. Although the medley has its smooth tendencies, the band takes enough liberties with the songs to make them interesting.
"Burn Down the Mission" is played fairly straight, but respectable. Elton should be pleased. On "Sunshine of Your Love," they rearrange the middle section and the outro a bit, but aside from that, they stay close to the original. For "House of the Rising Sun," all gloves are off. This is one of the most blistering versions of the song I've heard. Bobby Kimball's vocals are a bit over the top, but the music's great.
All told, Through the Looking Glass is a mixed bag. Toto fans will probably enjoy it, but if you're a fan of any of the original versions mentioned negatively above, you'll probably be disappointed.