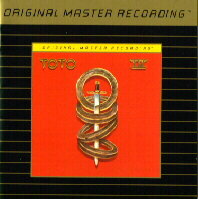 When you think about the music of the 80's, there's one album that always comes to mind--Toto IV. The album swept the Grammy Awards, & produced a number of hit singles. It was also one of the best sounding albums around. At least until Mobile Fidelity got their hands on it, that is. In an A/B sonic comparison, the 'regular' Sony disc failed miserably, suffering from what's best described as 'that 80's sound.' In addition to a noticeably higher output level, the MoFi disc was warm and bursting with dynamic range.
From the moment I put the MoFi disc into the CD player and hit the play button, there was literally no comparison. "Rosanna" had a much meatier sound to it; as opposed to the tinny, washed out sound on the Sony disc. The low end, in particular, was superb. "I Won't Hold You Back" is another standout track. The instruments and vocals throughout the CD are much more balanced now, and this cut is a perfect example. Steve Lukather's expressive guitar solos on the song sound better than ever.
There are people who think that Toto is nothing more that a pop band. As any fan will tell you, nothing could be farther from the truth. These guys can rock. Check out "Afraid of Love" and "Lovers in the Night," and you'll see what I mean. The songs have a much stronger feel to them, particularly in the drums. If you're the kind of person who likes to crank up your music, these two tracks are right up your alley. Perhaps the best sounding track on the disc is the band's mega-hit, "Africa." The natural depth and warmness on the song will take your breath away-especially on the ending.
Toto IV is the perfect candidate for MoFi's 24K gold treatment, and it surpasses all expectations. Some of the songs sound a bit dated now, but sonically, it can't be beat.