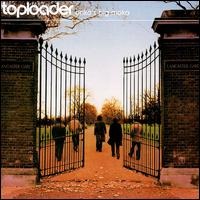 What do you get when you mix the looks of Carrot Top with the sounds of a pop rock opera? No, it's not The Who--it's the latest UK invasion, Toploader. A big deal to British audiences, Toploader is taking their act on the road--literally--to the United States with the upcoming release of the 'say it with me title,' Onka's Big Moka.
Toploader is comprised of Joe Washbourn on vocals and keys, Julian Deane on guitar and back up vocals, Dan Hipgrave on rhythm guitar, Matt Knight on bass and Rob Green on drums. A fun loving, partying bunch of guys, Toploader values a good time almost as much as making good music.
The collective fun began back in back in 97, although all the band members had been kicking around music for years. In fact, mop topped lead Washbourn started in classical music at the age of 8. The boys got together and formed the unique sound of Toploader, named after a cigarette rolling technique.
Upon hearing Onka's Big Moka, I felt like I had instantly entered a musical time warp. Most of the tracks like "Let the People Know," "Breathe" and "Do You Know What Your Future Will Be?" seem like they would fit perfectly amidst a 70's lavish stage production a la Tommy--complete with bell bottom pants and rainbows.
The first and arguably best tune honor however goes to a remake of an obscure King Harvest tune, "Dancing In the Moonlight." This single proved to be a hit already, making the Top 20 in the UK. A catchy ditty that's easy to digest, "Dancing in the Moonlight" could easily put Toploader on the map here as well.
Other strong moments include "Achilles Heel," a reflective moment that talks about the weaknesses that plague us all; and "Just Hold On," an uplifting Brady Bunch/Partridge Family mirage of sounds and soul. Finally, there's "Once For Awhile," an emotional rock ballad where Washbourn's vocals sound eerily like Rod Stewart.
There are also moments on the album that seem more like a rock experiment gone wrong like "High Flying Bird," "Summer Cycle" and the especially odd inclusion of the vaudeville type tune, "Floating Away (In the Bathtub)."
Toploader may be a hard band to tie down musically, but they are also a hard fit for the pop rock brainwashed. While the group manages to paint in colorful, broad strokes, perhaps they would be better off not using as thick of a brush.