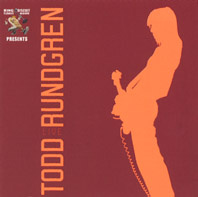 This CD is a compilation of three Todd concerts, all recorded for broadcast on the syndicated King Biscuit Flower Hour. The first (and weakest of the three shows) is from Rundgren's A Capella tour in 1985. Starting with an interesting version of "Real Man," Todd and his 10-piece 'band' (actually 10 vocalists--there were no instruments on the tour--tapes were used when necessary) played, clapped, and stomped thru a selection of songs from his latest album, and a smattering of hits. The highlight here is the always beautiful "Can We Still Be Friends." With this many people onstage, the vocal arrangement really comes to life.
"The Last Ride" kicks off the next group of tunes, this time from the 1977 Schaffer Music Festival in New York. Todd wails on the guitar with reckless abandon, and hits all the high vocal parts with ease. After a medley of "Eastern Intrigue" and "Love of the Common Man," Rundgren bursts into the rocker, "Couldn't I Just Tell You." Always a crowd pleaser, this particular rendition is outstanding.
The last six tracks are taken from The Bottom Line in '78 (note to the tape traders out there: this is not the same Bottom Line show that circulates). Rundgren's voice is a bit weak on "Real Man" (the high notes are notoriously difficult in a live setting), but aside from that, Todd's in fine form--both vocally and instrumentally. As you'd expect, "Black Maria" is stunning, and the medley of "I'm So Proud," "Ooh Baby Baby," "La La Means I Love You" and "I Saw the Light" is always enjoyable.
As a special bonus to those who purchase the CD, you can download 3 more songs that don't appear on the CD ("Honest Work," "Freedom Fighters" and "Born to Synthesize"), plus an interview with Todd from August 2000. If you'd rather not download all this, there's a coupon inside the CD allowing you to get the bonus material on CD. Collectors take note: the bonus CD lists the second track as "The Wheel"--this is incorrect. One other thing I wanted to mention… Yes, all of the tracks from the New York shows are also on the excellent Back to the Bars album--these are not the same performances.
To sum things up, this is another great release from the folks at King Biscuit. Whether you're a long-time Todd fan, or just discovering this music, this disc is a sure bet.