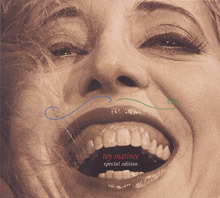 This one's a no-brainer. This is one of the greatest albums of the 90's, bar none. Before we get into the review, let me give you a little history on the group. Toy Matinee was the brainchild of Kevin Gilbert and Patrick Leonard. Leonard first heard Gilbert's band, Giraffe, when he was a judge at a Yamaha-sponsored 'battle of the bands' competition (they won). Liking what he heard, Leonard approached Gilbert and asked if he'd like to write some songs together. The rest, as they say, is history.
Musically, this is some of the finest music you'll ever hear. Combining pop sensibilities with progressive instrumentation, Toy Matinee is probably best described as 'thinking man's pop.' The songs are memorable, the lyrics are intelligent, the musicianship is superb, and thanks to Bill Bottrell's production work, it sounds great. What more could you ask for? Well, let's see… how about 5 bonus tracks? On Unitone's new special edition, they added demos and/or alternate versions of four tracks from the original album (including a drastically different version of "There was a Little Boy"), plus "Blank Page"--a Gilbert solo tune recorded around the same time. In addition to the extra tunes, there are new liners written by Patrick Leonard (Unitone is Leonard's label, by the way) and KLOS disk jockeys, Mark & Brian, who were huge fans and instrumental in getting word out about the band.
If you've got a copy of the original disc, you already know how great it is. The songs hold up as well today as they did when they were originally released 10 years ago. If you're of the unlucky people who haven't heard this album, you're in for a major treat. All CDs should be this good (even without the bonus tracks).