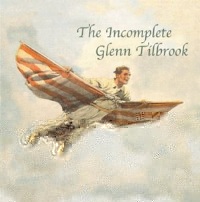 When you're in the market for feel good pop and catchy hooks, consider Glenn Tilbrook one stop shopping. Since co-founding every pop fan's guiltiest pleasure, Squeeze, with Chris Difford in 1973, Tilbrook has been the unofficial and unsurpassed front man of his time. Thirteen albums into his career, Tilbrook is finally trying his hand at a solo outing. The results aren't that surprising--but the fact that it took him so long to get here is.
Squeeze fans will be right at home with Tilbrook's first solo effort, The Incomplete Glenn Tilbrook. After all, the collection sounds a lot like a Squeeze album since Tilbrook's vocals were the heart and soul of the successful group. Tilbrook arguably still has one of the best (yet fairly unknown by American standards) voices in pop today.
The majority of the album is virtually interchangeable with his enviable Squeeze collection. However, it's not quite as catchy as some of his Squeeze collaborations. Some songs like, "This Is Where You Ain't" (two versions are included) have an unexpected dance beat to them. I can see the headlines now: "Glenn Tilbrook Goes Disco." There are also two versions of "One Dark Moment." The first showing off Tilbrook's funky side, the second is a grittier, more honest acoustic inclusion. "Up the Creek" is definitely the most experimental of the bunch. This track is perfect for Shaft, Laugh In, or even Fatboy Slim, with a pop chorus hidden somewhere inside the bold packaging.
The bittersweet "G.S.O.H. Essential" revolves around a solid, timely concept. Tilbrook sings, "Considering the experience remembering when I was 10, The Monkees weren't a real band, but I still loved them. Now I flick on the remote and it's happening again. I suppose it's not such a big leap from them to SClub7." This track is not only entertaining, but also revealing; exposing Tilbrook's feelings on the current state of the music world. Most importantly however, this song cracks the window to how Tilbrook sees his place amongst all of it. For seekers of more traditional Squeeze type fare, there are tunes like "Observatory" and "Parallel World." There are even traces of Squeeze with "Other World," reminiscent of "Some Fantastic Place" and "Interviewing Randy Newman" being a lot like "Separate Beds."
The album might not equate mainstream success, but it's a must have for any Squeeze collector. Perhaps just like the title indicates, there may be more to come from Glenn Tilbrook the solo artist. Hopefully this time around we won't have to wait twenty plus years to hear it.