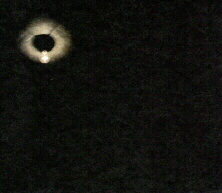 It seems like forever since Matt Johnson and his band The The had a new album in the racks. They were all set to release a new CD a few years ago called Gun Sluts, but the execs at Sony said it was too experimental and refused to release the album unless the band recorded something more commercial to promote it. Johnson refused, and the album was sent to the vaults. The band's latest effort, NakedSelf is a collection of dark, brooding songs, with no one track standing out as an apparent single. Still, there's something about these songs that make you want to hear them again and again.
From the opening police siren chaos of "BoilingPoint" through the in-your-face raucousness of "SaltWater," the band's latest material grabs your attention and never lets go. According to Johnson, the songs are about "fear, betrayal, karma, conspiracy, guilt, greed, numbness, yearning, depression, release and addiction." Makes you feel good just thinking about them, doesn't it? NakedSelf's raw, unbridled energy is channeled into a combination of distorted guitars and bass on one hand. On the other, the songs create an ominous black cloud of acoustic bleakness. As in the past, darkness abounds.
This CD has a much edgier sound than previous efforts. There are no keyboards, samplers or sequencers to be found anywhere here. Overall, it's the band finest album to date. Two of the many highlights include the acoustic-based first single, "ShrunkenMan," and the dissonant "VoidyNumbness." There are two versions of the CD out there--hardback (which features an additional booklet of sepia-toned photos) and paperback (with 'fewer belles and whistles'). Fans of the band are sure to enjoy this disc. Newbies may be put off at first, but the songs will draw them back in for more.