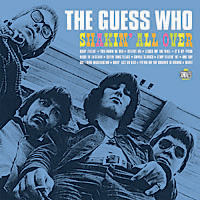 There's never been a better time to be a Guess Who fan. Albums are being reissued left and right (albeit not fast enough for the diehard fans), there are rumors of a comprehensive box set, and possibly new material from the band as well. One of the most recent reissues is Sundazed's excellent new compilation, Shakin' All Over!--a new collection of the band's early (1963-67) material, featuring many tracks in true stereo and several that haven't seen the light of day for over 30 years.
Shakin' concentrates mainly on the material where the band was still known as Chad Allen and the Expressions. Now, thanks to the recent discovery of vintage master tapes, and the mastering help of guitarist Randy Bachman, these songs sound better than ever. This material has been reissued time and time again on various labels, but never in such pristine quality. The vinyl pressing used for this review was excellent as well. No surface noise, pops or clicks at all.
The liner notes by renowned Guess Who biographer John Einarson give a detailed history of this early incarnation of the group, and there are tons of rare photos included as well. Fans may recall another recent compilation that concentrated on the 1966-1968 era, called This Time Long Ago. There are a few duplicated tracks between the two releases, but overall, they complement each other quite well. Shakin' All Over does the group justice and then some, and is a must-have for any true Guess Who fan.
Editor's note: this title is also available on CD.