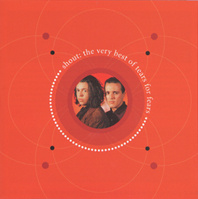 Tears For Fears was all over the airwaves in the 80's. With hits like "Shout," "Everybody Wants to Rule the World" and "Sowing the Seeds of Love," you couldn't keep from hearing them if you tried. The core members of the band, Roland Orzabal and Curt Smith went their separate ways after the excellent Seeds of Love album, and while Orzabal continued under the Tears For Fears name, it just wasn't the same without Smith's vocals in the mix.
Though it didn't make any headlines, one of the most encouraging bits of musical news of 2000 was that the duo reconciled their differences and began writing material together again, with the hope of recording a new album. In the meantime, Mercury released Shout - The Very Best of Tears For Fears. Yes, this is the band's third greatest hits collection, but it's the first to include tracks from the Smith-less era.
As with any album like this, there are always songs that should be here that aren't, and vice-versa. To these ears, there are too many tracks from The Hurting, and not enough from Songs From the Big Chair and The Seeds of Love. It may not be perfect, but it's a full 79 minutes of music. You can't ask for much more than that.
TRACK LIST:
Mad World * Change * Pale Shelter * The Way You Are * Suffer the Children * Mothers Talk (US Remix) * Shout * Everybody Wants to Rule the World * Head Over Heels * I Believe (A Soulful Re-Recording) * Sowing the Seeds of Love (edit) * Woman in Chains * Advice for the Young at Heart * Laid So Low (Tears Roll Down) * Break it Down Again * New Star * Goodnight Song