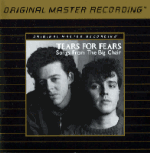 Songs From the Big Chair was a bit of a departure for Tears For Fears. It saw the band moving away from the synths and keyboards of their debut album, and towards a more guitar oriented sound. The album produced three major singles for the band-- "Shout," Everybody Wants to Rule the World" and "Head Over Heels"--and they sound better than ever on the MoFi disc.
As good as the hits sound, the best parts of this CD are the more ethereal album tracks. "The Working Hour" has much more ambiance than the regular CD, particularly the drums and percussion. "I Believe" is a true showcase for Roland Orzabal's vocal abilities, and the dynamic range on the track is outstanding. However, the song that surpasses all the others in terms of sound quality is "Listen." The incredible depth and dynamics make this a prime candidate for showing off your stereo system.
The best part about audiophile releases like this is when they feature different mixes, or extended versions of songs, or when you can hear something that seeming was never there before. You get all of the above with this disc. "Mothers Talk" is a different mix than the one on the original album. "Head Over Heels" features keyboards that were never audible before, plus it's 22 seconds longer than the regular CD. The 'live' version of "Broken" includes piano and handclaps that weren't there before.
In case all this wasn't enough, they also added extended versions of "Shout" and "Everybody Wants to Rule the World." It's a shame they didn't add some of the B-sides from the sessions, but you can't argue with bonus tracks, right? To sweeten the pot even more, the booklet features all-new photos; making this a must-have disc for the diehard fans out there. All in all, another top notch release from the audiophile veterans, Mobile Fidelity.