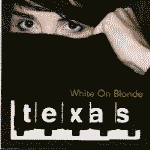 It's been four years since the last Texas album here in the US. They have been huge in Europe for years, but never got the break here that they needed. They released their debut album, Southside, back in 1989 as teenagers. To many, it remains their best effort to date. The signature acoustic slide guitar heard on the album is gone now, and replaced by a more 'mature' R&B-flavored sound. Their last album, Rick's Road, hinted at this new musical direction with its cover of Al Green's "Tired of Being Alone." One thing that has improved over the years is the voice of vocalist Sharleen Spiteri. She has always had a great voice, but like a fine wine, it's getting better with age.
The core trio of musicians from the first album is still intact--Spiteri on vocals and rhythm guitar, Ally McErlaine on lead guitar, and Johnny McElhone on bass--along with Richard Hynd on drums and Eddie Campbell on keyboards. After the lead-in track featuring an excerpt of Cole Porter's "I Love Paris," the CD begins with "Say What You Want," the first US single and a #1 hit in the UK (this CD was released overseas several months ago). "Halo" sounds like it could have appeared on Southside, and is one of the best tracks on the CD. "Put Your Arms Around Me" is a torch song in the truest sense, and features great vocals from Spiteri.
It's no secret where they got the inspiration for "Black Eyed Boy." One of the CD's better tunes, you'll swear you're listening to The Supremes doing a cover of "Tears of a Clown" until the chorus comes in. The mood shifts from Motown to something more sensual with the breathy vocals on "Polo Mint City." Aside from "Halo," the closest thing to a rock song on the new CD is "Postcard." Most of the other tracks have a 'retro' feel to them, and are more R&B-oriented than on previous albums. A prime example is "Good Advice." With its string arrangement and 70's sound, I kept looking to see if Barry White was coming around the corner.
White on Blonde is a definite departure for the band, and they manage to pull it off quite well. It's better than their last album, but not as good as the first two. If you are familiar with the band's previous material, it may take a few listens to get used to their new sound. If the 70's R&B scene is more your style though, chances are you'll love it.