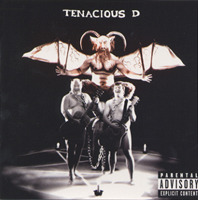 Acoustic metal comedy. Sound like an unlikely combination? Then you need to check out the debut CD from the self-proclaimed greatest band on earth--Tenacious D. 'The D' is made up of actor/musicians Jack Black (a.k.a. JB, Jables), Kyle Gass (a.k.a. KG, Kage), and an assortment of guest musicians like Dave Grohl (Foo Fighters), Page McConnell (Phish) & The Dust Brothers. You're probably thinking to yourself... OK, these guys get together, bring in a few guest musicians to fill out their sound, but do they rock? The answer is a resounding HELL YEAH! In fact, to steal a line from "Kyle Quit the Band," "we only came to kick some ass."
You're also probably wondering… if this record is so great, why haven't I heard it on the radio? That's easy--all but two of the songs are peppered with profanity. The only things that could possibly get any airplay are "Wonderboy," and "Dio," the poignant ode to way-past-his-prime rocker Ronnie James Dio. Then there are the other tracks. On "Kielbasa," Black sounds like a devilish cross between Michael Stipe and Anthony Kiedis. Some of the tracks aren't really 'songs' per se, but comedy bits instead. "One Note Song" is just what the title says, and as Jables so succinctly describes it, "a fucking brilliant song."
"Wonderboy" is the first (and probably the only) single from the CD. The song tells the story of Wonderboy and Young Nasty Man, and features JB's angelic vocals on the chorus and stellar guitar work by Kage. If you go to The D's website, you can see a video for The D's tender love song, "Fuck Her Gently." Introduced as "a song for the ladies," the dynamic duo added strings to enhance the romance factor. But this is not just your basic sensitive, rocking, comedy album. Oh no. There were great musical advances made during the recording sessions. JB discovered 'the most powerful tool in singing technology since yodeling'--"Inward Singing"--a technique that makes 'nonstop rocking possible." However, Kage is clearly unimpressed, and JB goes off on him in a classic D moment.
"Cock Pushups" is another short comedy bit where JB tells how he's preparing for the impending success with the ladies. You'll just have to hear this one. Later, after KG eats Jable's schnitzel, JB launches into "Karate," with the classic lyrics, "you broke the rules, now I'll pull out all your pubic hair." After a quick bit of backmasking (it says 'donkey crap,' in case you're wondering) and a count-in of "1, 2, 3, 4, 5, 6, 6, 6," "Rock Your Socks" kicks into high gear with its thumping drums. The song does just what the title says (aside from the brief Bach interlude--which rocks in its own way--after all, they are classically trained to "rock your fucking socks off"), then details the grueling process that they painfully endure before every gig. JB sings "it doesn't matter if it is good, it only matters if it rocks," and rock it does. Hard. "Drive-Thru" is similar in concept to the skit made famous by Stevens & Grdnic. This time, however, the emphasis is on JB's order and his special requests so that he can "watch his figure."
By this point, you're probably thinking, this is just another profanity-laced comedy record. Wrong. Not only do the songs on the CD rock hard, they're actually quite good. They're loaded with catchy, memorable riffs, Kage and Jables harmonize well, and if the songs weren't full of legitimate reasons for the parental warning label on the cover, I guarantee you'd be hearing a lot of them on the radio. Tenacious D is truly a force to be reckoned with. One listen to this CD and you'll know why. Pure genius.
Editor's note: This album is also available on vinyl.