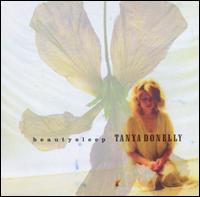 Tanya Donelly might not be a household name, but that doesn't mean her presence doesn't garner a decorum of recognition. A consummate singer/songwriter, Donelly is probably best known for her involvement with groups such as Throwing Muses, The Breeders and Belly. Flying solo since the late '90s, Donelly delivers pop with a purpose on BeautySleep.
Her sophomore solo effort evokes memories of what Donelly used to represent in the late '80s/early '90s haze of grunge rock. A distinctive vocalist, listening to Donelly is like reuniting with a long lost friend, the one you forgot you once cared for so deeply. Fans of her previous material will feel they are in good company with songs like the strong, yet sweetly sung love song, "Keeping You," and the lyrical flair of "Wrap-Around Skirt."
A musical growth has occurred Donelly's absence, evidenced on the jazzy rendition of "Life Is But a Dream" and the ethnic feel of "Moonbeam Monkey" and "Another Moment." But where she's most at home is with songs like "The Storm" and "So Much Song." Such tracks are likely to be compared to fellow breathy vocalist, Heather Nova, a singer who in the last decade or so has all but picked off where Donelly left off. A deeper element is also added with the country/folk blend of "The Wave," a tune that opens a new door for Donelly, one worth walking through.
Moody, contemplative and brooding--veteran rocker Tanya Donelly is living proof of what happens when angst grows up.