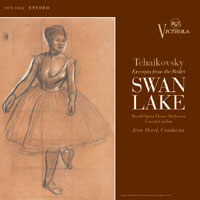 Whether performed in its full four-act form, or in as a suite (as it is here), Swan Lake is one of the most popular, and most recognizable ballets of all time. In retrospect, it's hard to imagine the problems that were encountered at early performances. Audiences initially found the music 'too symphonic,' and the dancers were distraught over the attention given to the orchestra which, in their minds, distracted ballet fans from the action on stage.
Jean Morel and the Royal Opera House Orchestra turn in a riveting performance throughout the piece, adding sparkle and color to Tchaikovsky's classic work. Audiophiles will be especially delighted with this sumptuously quiet pressing. The acoustics in the hall are superb, and they transfer to the vinyl beautifully. The strings and the brass section (the low brass, in particular) are warm and dynamic.
Although it's become sort of a cliché over the years because of its standard status as a dance piece, the Royal Opera House Orchestra gives Swan Lake the grandeur it deserves, without ever becoming pompous or pretentious. Overall, a magnificent performance.