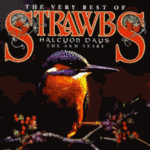 Fronted by vocalist/guitarist Dave Cousins, the Strawbs were one of the first bands to blend traditional English folk music with rock--kind of a cross between early Moody Blues ("Where is This Dream of Your Youth") and Jethro Tull ("Heavy Disguise"). Some of the tracks resemble early Genesis ("Two Weeks Last Summer" and "Ghosts"). Listening to this music today, most of these tunes sound dated. There are notable exceptions, but the majority of it doesn't stand up to the test of time.
All the FM classics are here--"Part of the Union," Lay Down," "Autumn" (the band's best track), "Round and Round" and "To Be Free." Most of the second disc is quite good, especially the tracks from 1974-1975. The first disc is another story. A single disc would have be sufficient for the band, even with a few of the early tracks thrown in 'for historical purposes.'
Strawbs fans will be thrilled with this new collection. This is the first time this material has been released in the US on compact disc, and the booklet is loaded with photos and information about the group. But for the uninitiated, there is too much filler.

TRACK LIST
Disc One: The Man Who Called Himself Jesus * Where is This Dream of Your Youth * The Battle * The Weary Song * I Turned My Face to the Wind * Forever * Song of a Sad Little Girl * Glimpse of Heaven * Witchwood * Sheep * The Shepherd's Song * The Hangman and the Papist * Benedictus * Queen of Dreams * Heavy Disguise * New World * Two Weeks Last Summer * Blue Angel
Disc Two: Here it Comes * Part of the Union * Tears and Pavan * The River * Down by the Sea * Lay Down * Autumn * Hero and heroine * Midnight Sun * Out in the Cold * Round and Round * Ghosts * Lemon Pie * Grace Darling * To be Free * Hanging in the Gallery * The Promised Land