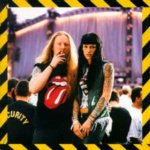 It's like clockwork with the Stones lately. They release an album, they go on tour, they release a live album. No Security documents the Bridges to Babylon tour, and the CD's 13 songs come from a host of concerts. While there are definitely some great moments, the disc lacks a sense of cohesiveness. All of the shows opened with "Satisfaction." The first song on the CD is "You Got Me Rockin'." Granted, it's a great performance, but this will probably disappoint anyone who was lucky (and/or rich) enough to catch any of the shows on the tour.
Running order aside, this CD has a number of stellar performances. Lisa Fischer is outstanding on "Gimme Shelter" and Taj Mahal's guest spot on "Corinna" is a highlight. "Saint of Me" was one of the best songs on Bridges to Babylon, and it's even better live. Without a doubt, the best track here is "Out of Control." When you hear the dual lead guitar attacks of Ron Wood and Keith Richards, it's hard to argue that they really are 'the worlds greatest rock and roll band.' The fact that they are still writing tunes like this after all these years is testament in itself.
As for the other tunes, most of them sound damned good. "Sister Morphine" has always been a favorite, and it doesn't disappoint here. "Respectable" is just that, although Jagger plays it safe on the vocals. The only real letdowns are "Memory Motel" (with Dave Matthews on vocals) and "The Last Time" (this one just doesn't fit). Like the band's other recent live albums, No Security isn't going to be something that you play over and over; but it makes a good souvenir for those who got to see the tour.