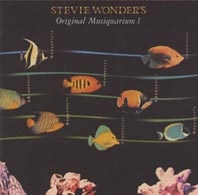 There aren't a whole lot of artists who can release a greatest hits album--a double album at that--and have it fall under the heading of essential listening. Stevie Wonder's Original Musiquarium I is one of those albums. Covering the most successful period of Wonder's career, Musiquarium contains all the hits released between the years 1972-80, plus four (at the time) new tracks. The fact that these songs all fit together as a flowing, cohesive album makes an even stronger statement about Wonder's songwriting abilities.
There are a few minor differences between the original album and the newly remastered reissue--none of which affect the music in any way. The original album had the tracks on sides one and four listed in the wrong order. The new CD corrects the error on what would be side one, but not the one on side four. The original album only had the lyrics and specific musician credits for the new songs. The new CD has the lyrics and musician credits for all the tracks. The other minor detail is that the CD's jewel box has the Motown logo on it, while the CDs themselves have the original LP label, Tamla, on them.
The music speaks for itself better than any review possibly can. Even if you already have the original albums, Stevie Wonder's Original Musiquarium I is an essential part of any music collection.
TRACK LIST
Disc One: Superstition * You Haven't Done Nothin' * Living for the City (alternate version) * Front Line * Superwoman (Where Were You When I Needed You) * Send One Your Love * You Are the Sunshine of My Life (single version) * Ribbon in the Sky
Disc Two: Higher Ground * Sir Duke * Master Blaster (Jammin') * Boogie On Reggae Woman (alternate version) * That Girl * I Wish * Isn't She Lovely * Do I Do