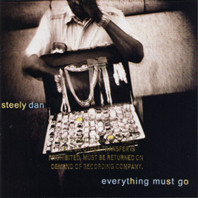 I really wanted to like this CD. I was a big fan of the band from the time Can't Buy a Thrill first hit the racks in my local record store. By the time Gaucho came along, my musical tastes had changed and I started getting into different things. Still, there were quite a few good songs on the album. In 2000, they won four Grammy awards for their 'comeback' album, Two Against Nature. For the life of me, I couldn't understand why. To these ears, it was little more than tepid background music. So, with my expectations sufficiently lowered, it's time to review the band's new disc, Everything Must Go.
Things get off to a good start. "The Last Mall" is a radio-friendly tune and probably the best thing they've done in years. A real return to form. From there, things unfortunately go downhill. The next few songs run the gamut from nondescript background music to just plain boring. "Slang of Ages" features Walter Becker on vocals, and might actually be a decent song if someone else was singing. "Lunch With Gina" was OK, although the rhythm sounds dated (almost disco… think KC & The Sunshine Band - "Get Down Tonight"). The title track starts out good, then gets boring after the initial flourish.
So, to sum up, Everything Must Go is better than their last effort, but still nothing spectacular. Or maybe I'm just not old enough yet. If you're looking for a good Steely Dan album, stick with the 70's stuff.