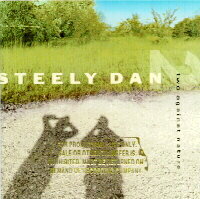 Before I get started here, I want to say that I've been a Steely Dan fan since 1972 when they released Can't Buy a Thrill. When I heard that they were in the studio recording new material, I thought that was great. Then the new CD arrived. My initial reaction was not good. The first thing that popped into my mind was "it took them 20 years to produce this?" Sure, the CD sounds great, but if the music's not interesting, what's the point? During the chorus on "Negative Girl," Fagen sings 'more of the same, more of the same'… All you can do is say "NOOOOOO!" or hit the stop button on your CD player.
After a few more listens, Two Against Nature starts to grow on you a bit, but it's still nothing spectacular. There are a few songs that are OK, like "Cousin Dupree" and "West of Hollywood," but unfortunately the rest of the CD is just tepid background music. None of the songs come close to the material found on the band's previous albums. Unless you're a completist and absolutely have to have a copy of this CD in your collection, don't waste your money on Two Against Nature.