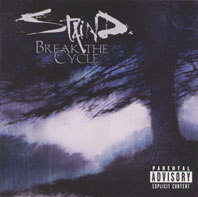 Staind is back in the record stores with their long awaited sophomore effort, Break the Cycle. On the new CD, the dark and depressive filled lyrics penned by the tormented lead singer remain, but this time he actually sings the words. "Suffer," "Presser" and "For You" are all hard driving numbers that cater to the metal crowd, however most of the low growls and screams from the first CD are gone. Lewis shows more vocal range on tracks like "Open Your Eyes," "Fade" and "Safe Place."
Break the Cycle is littered with slow songs, such as the first single "It's Been Awhile," "Epiphany" and the new electric version of "Outside." An acoustic version of "Outside" was featured on the 1999 Family Values Tour disc with vocalist Aaron Lewis on acoustic guitar and Limp Bizkit frontman, Fred Durst singing backup. These are all well written pop songs, but they're aimed at the teenagers that buy the pop fluff currently clogging radio playlists.
Break the Cycle manages to have something for everyone with a balance of hard rock, melodies and ballads; but it seems too polished and riddled with rock clichés. This is a sure sign that they will be everywhere you look for the rest of the year.