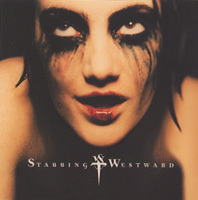 I've got to say upfront--I've never been a big Stabbing Westward fan. They always seemed like a NIN clone, and while they had a few songs here and there that I liked, I never really cared for the majority of their music. The album's first single, "So Far Away" was on one of the promo samplers that come into the office every month. The song grabbed my attention immediately. The industrial sound that the band was once known for is now gone, replaced by a more melodic approach. Longtime fans might think that the band has sold out, but nothing could be further from the truth. They still have the same dark lyrics, they still rock out--only now the songs build into memorable choruses that stick with you the first time you hear them. "So Far Away" is a perfect example.
In what some fans are sure to consider a bold move, some of the songs, like "Perfect" and "I Remember," are actually acoustic-based. "Wasted" is one of the darker songs on the CD, yet it still manages to be catchy. It's tough to pick out highlights--the whole disc is good. But, let's see… "The Only Thing" and the haunting "Breathe You In" are two of my personal favorites. "High" is a great rocker, and another of the best tracks on the CD. With their fourth album, Stabbing Westward successfully combines elements of their past with a more organic sound to create an album that will satisfy both new fans and old.