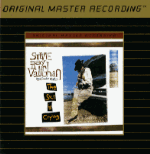 When I heard that Mobile Fidelity was going to release a disc by Stevie Ray Vaughan, the first thought that came to mind was (in my best Marv Albert imitation) "YES!" Being a huge SRV fan, it always surprised me that MFSL had never released anything from him in the past.
The first thing I noticed when I compared the MFSL disc with the regular version on Epic was the improved bass response. The overall sound quality throughout the disc is noticeably warmer and more defined than its Epic counterpart. Epic's disc had a slightly higher output level than the Mobile Fidelity version; but it also had a harsher high end, especially on "Empty Arms" and "Wham."
Vaughan's version of "Little Wing" remains one of the best covers of the Hendrix classic to date, and the sound quality on the track is absolutely breathtaking. The low end is superb, and there is no hiss at all. Another highlight is "Life by the Drop," which marks the first recorded appearance of SRV on 12-string. If you close your eyes, you'll swear he's in the same room with you.
Besides the recording's sonic improvements, Mobile Fidelity's version also includes the lyrics to all the non-instrumental songs (which were not in the original booklet). Highly recommended, even if you have the original.