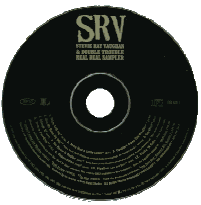 Here at The Night Owl, we don't normally review special promotional CDs; but in this particular case, we had to make an exception. On March 23, Epic / Legacy is releasing expanded editions of Stevie Ray Vaughan's first four studio albums--Texas Flood, Couldn't Stand the Weather, Soul to Soul, and In Step, plus a new 16-track compilation called The Real Deal - Greatest Hits Vol. 2.
Each of the original discs now have previously unreleased bonus tracks, new booklets & liner notes, and they've all been remastered from the original master tapes. These albums always sounded good, but wait till you hear 'em now.
Texas Flood: SRV Speaks * Tin Pan Alley (a.k.a. Roughest Place in Town) * Testify * Mary Had a Little Lamb (live) * Wham! (live)
Soul to Soul: SRV Speaks * Little Wing / Third Stone From the Sun * Slip Slidin' Slim
In Step: SRV Speaks * The House is Rockin' (live) * Let Me Love You Baby (live) * Texas Flood (live) * Life Without You (live)
The "SRV Speaks" tracks are brief excerpts of an interview with Billboard editor Timothy White. Of special interest to SRV collectors is Legacy's promotional sampler for the series. Unavailable in stores, this disc contains 10 tracks from the new CDs--plus "Shake 'N Bake," a previously unreleased instrumental from the Soul to Soul sessions, and an additional interview segment. Both of these tracks are available exclusively on this CD.
Couldn't Stand the Weather: SRV Speaks * Hide Away * Look at Little Sister * Give Me Back My Wig * Come On (Part III)
We'll be reviewing the individual discs in greater detail in the next couple weeks. Stay tuned…