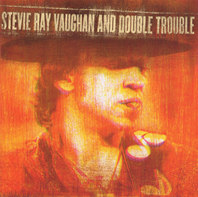 "Sometimes what appear as failures are really successes in disguise."--Tommy Shannon
This is one of those legendary stories in music. Looking for their big break, SRV and Double Trouble traveled to Switzerland to play 'Blues Night' at the legendary Montreux Jazz Festival. The band came out and played with their usual power and intensity, performing a fiery set of future SRV classics like "Pride and Joy" and "Love Struck Baby," alongside a handful of blues tunes like "Hideaway" & the song that would become one of the band's trademarks, "Texas Flood." The crowd couldn't have cared less. The boos and hisses from the audience became increasingly louder as the show went on & Stevie left the stage heartbroken and bewildered.
But fate was on his side. In the audience that night were David Bowie and Jackson Browne, who saw and appreciated SRV's unbridled talent immediately. Browne offered to let the band record their debut album (free of charge, no less) in his personal studio. Bowie recruited the Texas guitar slinger to play on his hugely successful Let's Dance album. When Stevie returned to Montreux three years later, this time it was to headline 'Blues Night' and the audience gave him the respect he deserved.
Some of the tracks included here have been previously released, but the majority of this 2CD set is available commercially for the first time. The 24-page booklet is loaded with photos from both shows, plus notes from the band, David Bowie, and staff members of the Montreux Jazz Festival. As for the performances themselves, if you have to ask, you shouldn't be reading this. Live at Montreux is another superb testimonial to the sheer musical passion and power that was (and still is) Stevie Ray Vaughan and Double Trouble. Stevie may be gone, but his music lives on.