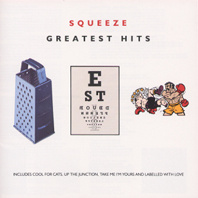 Formed by Chris Difford & Glenn Tilbrook in 1975, Squeeze quickly caught the attention of critics and the public alike. Their first album full-length album was U.K. Squeeze, released in 1978. Despite wide critical acclaim, Squeeze disbanded in late 1982. They reunited in 1985 for five more albums before finally calling it quits for good.
Originally released in the UK in 1994, Greatest Hits contains the 12 tracks from the now-classic Singles 45s and Under, plus 8 additional tracks from the band's later albums. All the songs you know and love are here: UK Top 10 hits like "Cool For Cats" and "Take Me I'm Yours," as well as the more successful material like "Pulling Mussels From a Shell," "Tempted" and "Black Coffee in Bed." The thing that makes this CD even better are the tracks that were added on; like the quirky "Hourglass," "Footprints" and the personal favorite, "Trust Me to Open My Mouth"--all from the underrated Babylon and On album.
Writing songs that are clever and thought provoking, humorous and heartfelt, Difford and Tilbrook have often been compared to the likes of Gilbert and Sullivan or Lennon and McCartney. Greatest Hits shows why.
TRACK LIST:
Take Me I'm Yours * Goodbye Girl * Cool For Cats * Up the Junction * Slap and Tickle * Another Nail in My Heart * Pulling Mussels From a Shell * Tempted * Is That Love * Labelled With Love * Black Coffee in Bed * Annie Get Your Gun * King George Street * Last Time Forever * No Place Like Home * Hourglass * Trust Me to Open My Mouth * Footprints * If It's Love * Love Circles