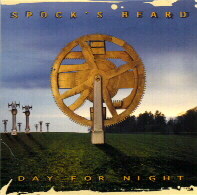 It seems like just a few weeks ago that I was singing the praises of Spock's Beard, how great they are, etc, etc. Unfortunately (or fortunately, depending on your point of view), the general public didn't pick up on them. Well, they just released another new CD called Day For Night, and while it isn't as good as the last two albums, it's definitely got some great songs on it.
There's still a major Yes influence running through the material, as well as Gentle Giant on a couple of the songs. The title track gets things off to a good start. The intricate harmonies are outstanding, and the band's as tight as ever. "Crack the Big Sky" is the only song that approaches the 10-minute mark. It starts with a jazz-influenced bass solo, and features horns for the first time on a Spock's Beard record.
The biggest highlight on Day For Night is a sprawling, genre-splitting, 7-part suite, encompassing the last 23 minutes of the CD. "The Healing Colors Of Sound - Part 1" and "My Shoes" set up the main theme, before the band dives into da funk on "Mommy Comes Back." The band goes acoustic on "Lay it Down," and by the time they get to "Healing Colors Part 2," the trademark layered harmonies are back in full force. The grand finale comes in "My Shoes (Revisited)," incorporating bits and pieces of the earlier parts, and featuring a majestic guitar solo from Alan Morse.
I said it before, but I'll say it again: Spock's Beard is one of the best progressive rock bands to come along in years. They combine technical mastery of their instruments with a keen sense of melody to create one of the most enjoyable and interesting sounds around. Day For Night isn't a great CD, but it's heads above most of the so-called progressive bands around today.