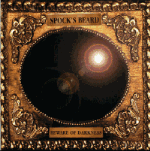 I know what you're saying. Who the hell is Spock's Beard? If you're into progressive rock and you haven't already heard this band, you're missing out. Originally formed in 1992, the group's influences run the gamut from The Beatles to Charlie Parker, Frank Zappa to Brian May, and Chick Corea to The Who. Imagine a combination of all that and a whole lot more, and you'll have Spock's Beard. The late Kevin Gilbert mixed three of the songs on the CD, and his influence is all over the disc.
The title track finds the band in familiar territory, covering the classic George Harrison tune. One of the CD's most interesting and intriguing tracks is "Thoughts." The musicianship on the song is excellent, and the multi-layered harmonies are outstanding. Neal Morse's powerful vocals on the 11-minute epic, "The Doorway" add just the right 'edge,' without ever becoming bombastic. The harmonies on this track in particular reminded me of Morningstar (a great Kansas City band that went virtually unnoticed outside the Midwest).
Several of the songs have a definite Yes sound to them, mainly due to Dave Meros' bass playing. He sounds like he graduated from the Chris Squire (Yes bassist) school of bass playing with full honors. "Walking on the Wind" shows that influence, as well as a bit of early Genesis thrown in for good measure. "Waste Away" is probably the song with the most commercial potential. It's melodic, and has great vocals throughout. The last track, "Time Has Come," has its moments; but at 16 minutes, it's just too long.
The press release for the band says 'this isn't your father's progressive rock,' and I have to agree. There's one thing that sets Spock's Beard apart from the other new progressive bands; they don't sacrifice melody for chops. The members of the band are all excellent musicians, but more importantly-they write good songs.