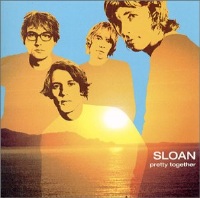 It's hard to believe the fearless foursome Sloan has been around ten years and has yet to make a mark on the pop rock world. After all, there's something about Sloan that screams success, albeit it's the success of those who have come before them. Weaving finely crafted original melodies, Sloan has tapped into some great sounds of yesteryear, and capitalized on the mood, making Pretty Together.
The album opens with the 70's rock feel of bands like Boston on "If It Feels Good Do It." In fact, the most amazing thing about the tune with lyrics like, "If it feels good do it, even if you shouldn't," is that no one has done it before. The classic rock vibe is a steady theme through out the album, heard heavily in tracks such as "Pick It Up and Dial It" and "Never Seeing the Ground for the Sky."
Tackling unique topics, "The Other Man" offers the other perspective in an affair, while the self-explanatory "The Life of a Working Girl" crams a lot into one melancholy tune.
The rest of Pretty Together revels in mellow pop ("Who You Talkin To," Are You Giving Me Back My Love," "Your Dreams Have Come True.") and music overflowing with Beatles bravado ("In the Movies," "I Love a Long Goodbye.") In fact, all four members of Sloan contribute to song writing, keeping them in good company along side the lads from Liverpool.
For listeners who like their rock revisited, Sloan is a slippery slope of delicious vintage.