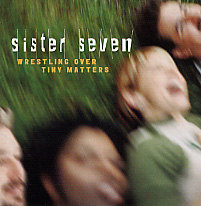 In 1997, Sister Seven released their 2nd album, This the Trip--an irresistible mix of hard rock, blues, funk and just enough of a tinge of hip-hop to give it all an ultimately modern sound. The staff here at The Night Owl loved the album so much, it ended up on our list of the top five CDs for the year. Since then, we've all been waiting for a follow-up to arrive. Well, the folks at Arista slipped this one right by us a couple months ago with little or no fanfare at all. Because of that, we're going to review it for our loyal readers now.
Tiny Matters gets off to a great start with "Fallen Angel," a rocker that picks up right where Trip left off. The next three songs--"Polishing the Looking Glass," "Under the Radar" and "The Only Thing That's Real"--sound a lot like an obscure (here in the US they're obscure; in Europe, they're huge) band from Scotland called Texas. All three songs are acoustic based, pop, power ballads. "Elijah" is the next highlight, and shows the band can rock with the best of them.
The disc gets into a bit of a lull on the next two cuts, but bounces back with another rocker called "Loaded." Unfortunately, things way down with "Nobody Knows." It's almost as if the band's trying to appeal to the Britney & Christina fans, with its hip-hop/R&B/pop thing going on. There's a nice acoustic guitar solo on the track, but it's not enough to save this one from being the low point on the CD. The last three tunes bring the 'music quality level' back up again though. "Superman" is the best of the three, and one of the few new tunes that still gets the funk into the mix.
The CD also includes some multimedia content: an interview with the band, live clips of three songs, plus photos and a link to the band's website. Musically, the new disc doesn't quite measure up to the last one, but there is enough good music here to make it a worthy addition to your collection.