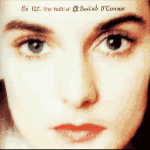 The first time I heard Sinead O'Connor was in the wee hours of the morning on MTV, singing backup on a video by The The called "Kingdom of Rain." Her unique vocals caught my attention immediately--the stark tone shimmering over the music. Soon after that, I picked up her (then) latest CD--I Do Not Want What I Have Not Got. For me, her ability to go effortlessly from a whisper to a scream set her far apart from her peers at the time.
Her popularity suffered greatly after her picture tearing incident on American television. Initially undaunted, O'Connor later broke down and said she would retire from music because of all the controversy. Luckily for fans able to overlook her 'incident,' that didn't happen. She went on to record 2 more albums and an EP, toured again, and appeared on numerous soundtrack albums. While none compared in terms of sales to her earlier days, O'Connor continued to create captivating music, as shown in tracks like "Fire on Babylon."
Sinead O'Connor has one of the most unique and powerful voices in music today. Whether she's performing songs from Broadway musicals, pop standards, ambient trip-hop, irish folk tunes, or her own hits; So Far… does a fine job of showing just how versatile she really is.
TRACK LIST:
Nothing Compares 2 U * Mandinka * The Emperor's New Clothes * The Last Day of Our Acquaintance * Fire On Babylon * Troy * I am Stretched Out on Your Grave * Success Has Made a Failure of Our Home * John I Love You * Empire - Bomb the Bass * I Want Your (Hands on Me) * Heroine (Theme from Captive) * Don't Cry For Me Argentina * You Made Me the Thief of Your Heart * Just Like U Said it Would B