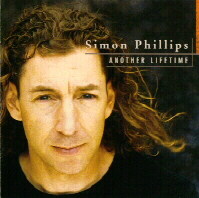 Fusion fans have been waiting a long time for a really good new album. The best fusion was a big part of the jazz scene during the mid to late 70's, but with a few exceptions, seemed to fade from existence after that. With drummer Simon Phillips new CD, Another Lifetime, the wait is now over. Captivating and exciting, this CD sounds something straight out of the genre's heyday. What makes the disc even better is that the songs, all written or co-written by Phillips and guitarist Ray Russell, are actually melodic. It's not just a bunch of excessive noodling. There are real melodies going on here.
"Jungleyes" reminded me of something from the first UK album, especially in the beginning, and the guitar work is strongly reminiscent of Allan Holdsworth from that period. "POV" continues in the same style from above, albeit with a bit of Al DiMeola-style guitar work thrown in. "Freudian Slip" slows things down a bit. The song starts off as a funk/blues kind of a thing, then picks up with a more majestic sound before sliding back into the original theme. "Eyes Blue For You" is an R&B based tune, with a cool solo by keyboardist Jeff Babko.
One of the best things about hearing Phillips on the drums are the complex fills he throws in, and "Kumi Na Moja" is the perfect showcase. The song sounds like something off an old Billy Cobham or Lenny White record, with a great guitar solo amidst Phillips' powerful drumming. "Mountain High" slows down the pace again, and features an assortment of acoustic nuances going on throughout the track. "ESP," on the other hand, rocks hard. The liner notes don't say which guitarist is playing on which tracks, but the fretwork on this one just smokes.
This is one of those albums where you can pick up something new each time you hear it. Simply put, this is the best fusion album I've heard in a years. If you're a fusion fan, or just a fan of good music, this disc is highly recommended.